Issue #1004 March 19, 2016
Publisher: Joan Stewart
"Tips, Tricks and Tools for Free Publicity"
In This Issue
How to Share Dull Topics on Pinterest 
6 Keys to Success as an Author
Twitter Killing Tweetdeck for Windows
Hound Video of the Week
This Weekend in the Hound House:

I'll be doing spring cleaning in the garden, and I don't like what I see. The squirrels have pulled my miniature iris bulbs out of the ground. The deer have munched on the bare branches of my new purple lilac bush. I haven't even started doing battle with the critters yet, and I feel as though I've already lost the war.
1. How to Share Dull Topics on Pinterest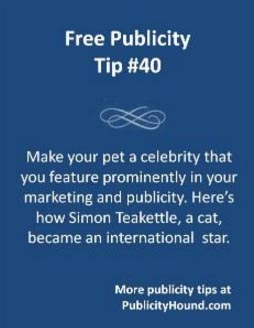 Free publicity is a difficult topic to illustrate. Yours might be, too.
Three years ago, I started a Pinterest board called "50 Tips for Free Publicity." Instead of using cliche stock photos, I created PowerPoint slides that included the numbered tip and my web address. Each image is clean and simple, like the one you see here.
I'm now at Tip #52 and have no plans to stop. Every time I post a tip, many of the 3,400 people who follow me share it. And every time they share, it pulls traffic to my blog.
The board almost always shows up on the first page of Google for my keywords.
This strategy is perfect for dull, academic or yucky topics that don't lend themselves to eye-popping photos or illustrations. My followers don't care that the board isn't pretty. It's valuable because it includes quick tips that link to a blog post with in-depth tips.
To do: Get step-by-step directions, including my best advice on how to optimize your board for the search engines when you buy the video replay that comes with five cheat sheets from a webinar I hosted on "How to Create how-to Tips for Non-visual Topics on Pinterest and Earn High Google Rankings." You can get the $49.95 package for half price but only until midnight Monday night. Use the coupon code PINTEREST (Apply and Recalculate) when you order here. 
2. 6 Keys to Success as an Author
When Jack Canfield's first "Chicken Soup for the Soul" book was rejected by 144 publishers and his own literary agent, he refused to give up.
That's because he had a plan. And he sold 20,000 copies of "Chicken Soup" BEFORE he finally found a publisher.
If you're thinking of writing a book, or your current book is seeing too few sales, Jack has sage advice for you. He'll share it on a free teleseminar with Steve Harrison at 2 and 7 p.m. Eastern Time on Wednesday, March 23.
He'll explain the pros and cons of traditional publishing vs. self-publishing. And jack will explain the simple technique he used in writing his book, "The Success Principles," which allowed him to later sell thousands of copies to a single company. He used the same method to land 50 speaking engagements–all because of something he did while writing the book.
Many writers who consult with me feel uncomfortable about putting themselves "out there" as an author, speaker, book promoter or talk show guest. Jack will adress that, too.
To do: Register for "Jack Canfield Shares Six Keys to Outrageous Success as an Author." I am promoting this as one of Steve's affiliates and earn a commission from him if you buy anything down the road.
3. Twitter Killing Tweetdeck for Windows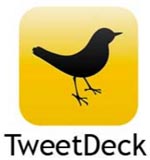 Starting April 15, Twitter will no longer support the Windows version of Tweetdeck, the application that lets you manage multiple social media accounts from one dashboard.
You'll still be able to use TweetDeck on the Web, however.
Good riddance. Tweetdeck kept crashing my computer when I tried using it several years ago. I gave up in frustration and use HootSuite instead and love it.
To do: Regardless of which program you prefer, make sure you're using hashtags correctly because they make it easy for more people to find more of your content. And that can translate to more followers, more traffic to your website and maybe more sales. My webinar on "How to Use Hashtags," regularly $49.95, is yours for half price, but only until Monday night. It includes a checklist of questions to ask yourself before creating your hashtag. Use coupon code HASHTAGS (Apply and Recalculate) at checkout when you order here.
4. Hound Video of the Week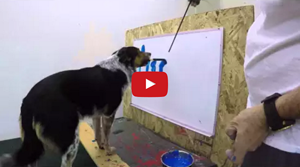 Thanks to BL Ochman of New York City and Pawfun.com for this video of Jumpy. Watch as he writes his own name.