Issue #1009 April 5, 2016
Publisher: Joan Stewart
"Tips, Tricks and Tools for Free Publicity"
In This Issue
How to Sell to Libraries
Give a Killer Interview
Why Emailing Builds Trust
Hound Video of the Week
This Week in the Hound House:

The only long line I don't mind standing in is the one at Port Washington City Hall where I voted in the presidential primary early this morning. It's patriotic. To kill time, I scan the crowd, trying to guess who voted for which candidates. I love my little red, white and blue "I voted" sticker, and wear it on my jacket until it falls off.
1. How to Sell to Libraries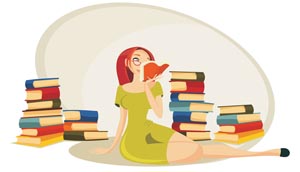 No more grumbling about how much money you lose when you sell books on Amazon.
You can recoup what you lost by "renting" your ebook to libraries for up to eight times what you'd sell it for on Amazon.
Here's how to get started:
To improve your chances of selling more books, offer them in paperback and at a market-friendly retail price. Also be willing to accept returns.
Try to get book reviews from respected sources like Midwest Book Review, Publishers Weekly and Library Journal. Librarians turn to third-party trusted sources to help them decide which books are worth their time.
Go the extra mile for the library. Write an article for their website or newsletter. Use Skype to host a free online event for their patrons. Can you visit the library for an author event? 
Publishing expert Amy Collins has interviewed librarians and asked them to share their best tips on how to sell to them. I'm hosting Amy and Daniel Hall for a free webinar from 4 to 6 p.m. Eastern Time this Thursday, April 7.
You'll learn the step-by-step process of how libraries buy print-on-demand books and license ebooks from independent authors and publishers like you. You'll also learn what fiction and non-fiction genres sell best to libraries and why it doesn't matter what genre you book is in.
To do: Register for Thursday's call, and bring your questions.
2. Give a Killer Interview
"Will you fact-check the story with me before you write it?"
Few Publicity Hounds would dare ask that when a newspaper or magazine interviews them. But when I worked as reporter, I almost always say yes because it helped me write a more accurate story. It's one of 21 questions you have every right to ask. The worst they can say is no.
Last week, I shared "14 Questions to Never Ask Journalists." But I don't want you to be subservient.
To do: Read my list of "21 Questions You Can Ask Journalists Before, During and After Interviews" and ask the ones that best fit your circumstances. If you need help, Rent My Brain. I can prepare you to be media-ready. We can even do a dress rehearsal.
3. Why Emailing Builds Trust

If Christmas falls on Tuesday, you can read these publicity tips on Christmas.
Every Saturday morning, when you check your email, you see them again. That means occasional late Friday nights for me, and a lot of extra work during the holidays.
Why have I bothered to publish on a regular schedule for almost 16 years? To earn your trust, and the trust of journalists, business owners, bloggers, industry leaders and others who subscribe.
Art marketing expert Alyson Stanfield agrees. She has been emailing her excellent newsletter, Art Biz Insider, every week, without fail, for 14 years.
"Trust with your (email) list starts with a promise: to give people what they signed up to receive," she says. "This is your word and it shouldn't be taken lightly."
To do: Read "Your Artist Newsletter Delivers Trust." And commit to mailing to your list, even if it includes only a dozen names. They're counting on you. If they love your content, they'll recommend that others subscribe.
4. Hound Video of the Week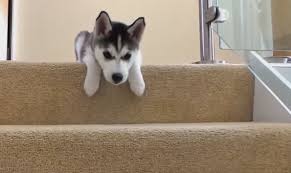 Dog Vs. Stairs….guess who wins? The dogs in these hilarious clips have found pretty, er, let's say "unique" ways of going up and down the stairs — or, in some cases, avoiding them completely.