Issue #1328 Oct. 1, 2019
Publisher: Joan Stewart
"Tips, Tricks and Tools for Free Publicity"
In This Issue
How to Promote Your Thank You Notes
Pitch Weeklies' Special Sections
Top 5 Benefits of Press Releases
Hound Video of the Week
This Week in the Hound House:

All my wood, the remains of a giant ash tree infected with ash bore, will be gone soon. I advertised it for free on Craigslist and NextDoor, my favorite discussion board for my neighborhood. A guy who lives near me saw it, brought his pick-up truck and claimed about half of it yesterday. A handyman will come on Thursday with a giant log splitter, cut up the pieces from the trunk, and cart them away. The older man next door has been working tirelessly to break up the smaller pieces, move them to his yard and burn them. Thanks for your many suggestions on how to deal with this. I get by with a little help from my friends…and my Hounds.
1. How to Promote Your Thank You Notes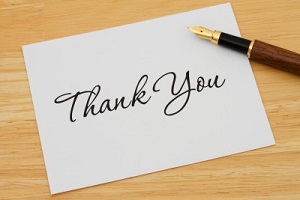 At my car dealer yesterday, I read the thank you notes posted on a bulletin board in the waiting room while my car was being serviced.
Smart way to let people know about all those happy customers, I said to myself.
But what about people like me who have a home office? How can we let the world know about the customers and clients who love our work? That got me thinking of these ideas that I wish I had done during the more than two decades I've been in business:
–With the writers' permission, take a photo of the notes and include them at your websites. I love handwritten notes because few people send them anymore.
–Share excerpts from the notes on social media.
–Create a slidedeck.
–Turn the best photos into a video that you can narrate using a software program like Camtasia. How did you help the client solve a problem?
–Going to a trade show? Put them in a scrapbook with laminated pages and place it on the table in your booth.
–Not renting a booth? Take the scrapbook with you to share with people you meet at the show.
–Doing a book signing? Take it with you to show to your fans.
–Speakers, take the book with you if you're at an event where you might meet meeting planners who can hire you.
To do: Start saving your thank you notes and think of creative ways to use them to promote your expertise and your business.
ThankYouNotes #Testimonials
2. Pitch Weeklies' Special Sections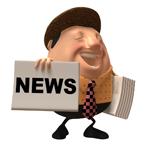 Why do I keep harping that Hounds should be pitching weekly newspapers?
Because unlike dailies, many weeklies have stable circulation and a loyal readership, especially if you're targeting over-50 readers. And these papers are such a doggone easy way to get publicity.
Don't overlook the many pitching possibilities for those newspapers' special sections. My weekly featured a local pest control company prominently in the Home & Garden special section last week. Most of the other businesses in that section had to buy expensive ads.
Special section topics can include:
–Holidays like Christmas, New Year's, Mother's Day and Father's Day.
–Back-to-school and graduation.
–Home and garden.
–The four seasons. Lots of opportunities for spring clean-up ideas and, in the fall, preparing for winter.
–Eating and drinking.
–Gift ideas.
To do: Call the ad department of your weekly and ask for a copy of their editorial calendar. Pay attention to the editorial deadlines. Call the paper and ask which editor is responsible or the editorial content. Pitch several weeks before the section goes to press. If you've been eyeing my special reports, this is your lucky day. I'm slashing the price in half on all my reports, including the monster bundle of all 52 reports. Use coupon code "reports" at checkout. Don't delay. When the offer is gone, it's gone.
3. Top 5 Benefits of Press Releases
Press releases are NOT dead. Crappy press releases are.
Here are the top five reasons why you should be writing and distributing them:
They bypass the media gatekeepers and let you write directly to consumers.
They brand you as an expert in your field.
They give you credibility when media outlets include your releases at their websites.
They let you link to specific products and services you sell.
They help you build an email list because you can link to a digital freebie in exchange for the reader's name and email address.
In my free online course, "89 Ways to Write Powerful Press Releases," I walk you step-by-step through the 7 parts of a press release, show you how to make it search-engine friendly and target the exact types of people you want to reach. You'll see more than 30 press release samples including several "before and after" makeovers so you know how to turn a lackluster press release into one that brings results.
You don't have to give me your name and email address. You can learn at your own speed. Each of the 11 modules goes in-depth on one topic. By the time you're done, you'll know more about press releases than most professional PR people, many of whom are doing it wrong.
To do: Start here. If you like it, share the link everywhere, along with the image above. Your fans will thank you.
#PressRelease #NewsRelease
4. Hound Video of the Week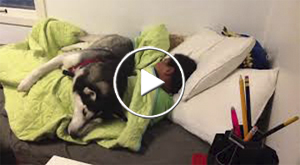 You think you don't want to get out of bed in the morning? This Husky just doesn't want to get up but doesn't want his human to either.