Issue #1005 March 22, 2016
Publisher: Joan Stewart
"Tips, Tricks and Tools for Free Publicity"
In This Issue
How to Pitch Woman's World
What Sparks Your Creativity?
Sell Books During TV/Radio Interviews
Hound Video of the Week
This Week in the Hound House:

I promised a wouldn't pester you (a lot) with photos of my great-nieces. But it's been three months already. The precious little nuggets, Lilly on the left and Alena, turned 4 months yesterday. They don't even look like they're from the same family. Hope to make it back to Ohio to see them before they're in kindergarten.
1. How to Pitch Woman's World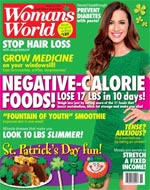 Thanks to book marketing expert John Kremer of BookMarketingBestsellers.com for this one.
A publicity hit in Woman's World can make books or products fly off the shelves.
It's a weekly women's tabloid magazine that covers entertainment, health, food, weight loss, diets, nutrition, saving money, parenting, home, self-help, relationships, pets, travel, novels, and more. They pay $250 for feature stories submitted to any of their special sections.
Nonfiction authors can offer advice. Fiction authors, you can submit your books for review. Cookbook authors, they love recipes, especially middle America comfort food.
John has compiled pitching tips galore, contact information, lots of examples of which authors have gotten publicity in Woman's World, and where you can follow the magazine on Facebook, Twitter, Instagram and Pinterest.
To do: Read John's article "Publicity Opportunity: Woman's World." You can also pick up more tips on Woman's World Fiction Guidelines. But don't stop there. Journalists are leaving clues about what they need, online and offline. My video replay of the webinar on "How to Find Your Way into Glossy Magazines" will save you time trying to find them. It includes the checklist on "11 Ways to Prepare for a Magazine Interview" and it's yours for half-price when you use the coupon code MAGAZINES at checkout. Order here.
2. What Sparks Your Creativity?
Friends, followers and fans love reading "behind the scenes" stories about how or why you do what you do–stories that give them a glimpse into your personality.
A Sink Full of Dirty Dishwater seldom fails to spark my creativity, and I wrote about it about my blog.
Turns out I'm not alone.
Dr. Wallace J. Nichols, a marine biologist and conservationist, has explored the connection between humans and water. He calls it "blue mind," the mildly meditative state our brains enter when we're exposed to water. Scientists have also discovered that the brain, which consists of 75 percent water, prefers the color blue above all others and that water helps us focus. Being at or near water, without a screen in front of us or other distractions, gives our brain a chance to rest.
To do: What routines, habits or idiosyncrasies do you have that will help your followers know you better? Consider writing an article, a blog post, a guest blog post, or a simple email.
3. Sell Books During TV/Radio Interviews
Radio publicity expert Joe Sabah has a great tip for authors appearing on radio shows.
Work it out with the host ahead of time that just before a commercial break, the host says, "Get a pencil because when we come back, Joe is going to give you a great tip on how to….."
After the break, Joe explains the tip. The host then gives the phone number or web address where people can buy Joe's book, and listeners can write it down.
To do: Jack Canfield has two more ways authors can turn radio and TV interview into book sales. He'll explain them when he's a guest on Steve Harrison's teleseminar at 2 and 7 p.m. Eastern Time tomorrow–Wednesday, March 23. Register for "Jack Canfield Shares Six Keys to Outrageous Success as an Author." I am promoting this as one of Steve's affiliates and earn a commission from him if you buy anything down the road.
4. Hound Video of the Week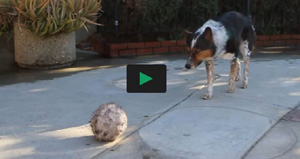 On Saturday, I showed you the video of Jumpy, the dog that can write its own signature. Here's another video of Jumpy, proving that some dogs can be trained far better than humans.