Issue #1048 August 20, 2016
Publisher: Joan Stewart
"Tips, Tricks and Tools for Free Publicity"
In This Issue
How to Pitch a Reality Show
Speak & Sell Stuff on Cruise Ships
11 Sources for Free Images
Hound Video of the Week
This Weekend in the Hound House:

Sick Dog Update: At the vet's suggestion, I'm feeding Bogie, my German Shorthair, high-calorie canned dog food to try to fatten her up. She loves it! Results of her blood test show her globulin levels are too low, which means she can't ward off infection as well as she should. She's been on antibiotics to clear up the sore on her leg that she created from constant licking, probably an allergy. Thanks for your prayers. Publicity Hound Larry Winebrenner even took my request to his prayer group, the first time they've ever prayed for a dog. I'm grateful for your prayers. Bogie is too.
1. How to Pitch a Reality Show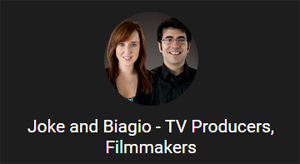 Pitching an idea for your own reality TV show, or pitching yourself to be on someone else's show could be yet another ticket to free publicity.
But how do you pitch? Who do you pitch? And what does a good pitch look like?
Joke Fincionen and Biagio Messina, a husband-and-wife team, have pitched, sold and made hundreds of hours of unscripted television. Here are two examples of good and bad pitches.
Bad:
"We're going to travel the country and find real life witches. We're not just looking in the spookiest corners, but in every day places, too. We'll even see that witches are normal people. How's that sound?"
Good:
"I discovered these young witches who run a shop selling witchcraft products. They're up for doing a show. Here are some photos I pulled off Facebook. Would you like to see some tape?"
Bad:
"How about an extreme survival show starring people who insist on living like cave men? What do you think?"
Good:
"I met this crazy survival dude who insists on living naked and eating only what he kills. But he lives in the middle of New York City. Here's a YouTube video of a news story done on him. Should I put together some more tape?"
Joke and Biagio insist you should not pay anyone to pitch. And they'll let you pitch them, for free. But only if you read their free ebook. You can read every section of the book, with clickable links, starting in the Table of Contents in "How to Pitch a Reality TV Show" (scroll down).)  
2. Thursday: How to Market with Email
Three tips for building an email list, what could become your most valuable marketing and publicity tool:
Offer a killer freebie in exchange for an email address. Consider: a step-by-step guide, a series of short how-to videos on how to solve a nagging problem, templates, a toolbox of free resources.
Use a call to action in every email you send. Tell readers exactly what you want them to do. Your call to action might be "forward this email to someone who can use it and encourage them to subscribe."
Follow the 80-20 rule. About 80 percent of the content you send should be high-content, quality information. The remainder can be promotional. Send nothing but promotions and people will unsubscribe.
When I offered my Author Email Boot Camp training in February, many readers contacted me and asked if I'd consider offering a lighter, more budget-friendly training program on how to do email marketing. Yes, I will. Join me from 4 to 5:30 p.m. on Thursday, Aug. 25, for the free webinar "How to Use Email to Attract Fans, Create SuperFans & Sell More Books." And learn how you can take advantage of my training that's a more comfortable fit for any budget. Register for the free call here.
3. How Your Bank Can Promote You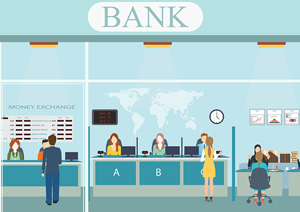 When standing in line waiting for a teller at my U.S. bank branch this week, I saw a poster and bookmarks advertising a book signing at the local library for New York Times best-selling author Elizabeth Berg.
"Smart!" I said to myself.
I took a bookmark from the plastic display stand that was on top of little area where you fill in your deposit slips, right in front of where people wait in line.
On the drive home, I started thinking of all the ways banks can help you sell more books or products. My ideas don't apply only to authors but to anyone selling a product or service who is willing to give away free information.
To do: Read my five ideas at my blog, "5 Ways Your Bank Can Help You Sell More Books, Products." Just now, I thought of one more idea: those scrolling signs outside the bank. If the bank is hosting you for an event, they might promote you on the sign.
4. Hound Video of the Week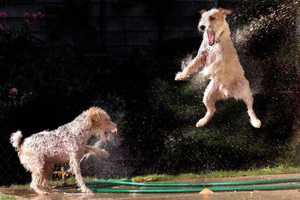 Here's a montage of dogs enjoying themselves during the dog days of summer.