Issue #954 Sept. 26, 2015
Publisher: Joan Stewart
"Tips, Tricks and Tools for Free Publicity"
In This Issue
How to Get Better Book Reviews
Social Media Rules for Indy Authors
Teach Online: Free Training Today
Hound Video of the Week
This Weekend in the Hound House:

Next week, my gorgeous blue Morning Glories will be in full bloom, a month late, on what has turned into a tangled mess of vines that I thought would never produce flowers. I'll have photos to share.
1. How to Get Better Book Reviews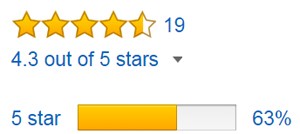 Dozens of good book reviews are a must if you want to sell print books or ebooks and create mountains of publicity.
Florence Osmund, a book expert who works with new and aspiring authors, says one of the best ways for authors to get good reviews for their novels is to know, before they write, the exact criteria that professional reviewers use to judge your book.
They include:
Writing mechanics. Many reviewers will reject books that contain errors in grammar, spelling and sentence structure.
A beginning that introduces the reader to the protagonist quickly, a middle that sustains the reviewer's interest and an ending that won't be too abrupt or drag out.
Character development. They want to read about characters that are well-rounded, believable, interesting and flawed.
Accuracy. With the exception of sci-fi and fantasy, double-check everything you write.
Read seven more in her post "Eleven Ways to Get Better Book Reviews for Your Novel" at Joel Friedlander's blog.
2. Social Media Rules for Indie Authors
On Tuesday, when I shared with my Facebook friends a photo of me,  at age 3, kissing my baby sister, Lois, I was astonished to see 111 Likes and 25 Comments. Some came from my earliest clients and from friends who I haven't see in in almost 50 years.       
It reminded me to remind you of Rule #1 in social media: Be social.
Here's another rule one for indie authors: Share fun photos of your book.
Scottish indie author Wendy H. Jones shared a photo of someone in a goofy costume who she met at a craft fair where she was signing books. The costumed character was holding up a copy of her book, "Killer's Countdown."
Read her other social media rules here.
3. Teach Online: Free Training Today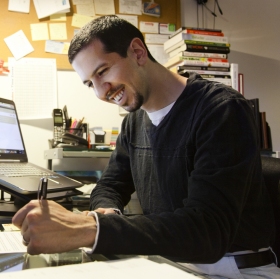 Quick Reminder: If you're toying with the idea of teaching classes online, but you don't know how to promote them, build the course or sell enough seats, register for Danny Iny's webinar today and tomorrow on "60 Days to Build and Sell Your First Course."
He'll walk you step by step through the exact process he taught me when I created the pilot for my Author Email Boot Camp this past spring. He'll even show you how to sell the course, for instant cash, even before you create it.
After you register, choose from four times: 3 to 5:30 p.m. and 8 to 10:30 p.m. today, Saturday, or 10 a.m. to 12:30 p.m. Eastern and 3 to 5:30 p.m. Eastern tomorrow, Sunday.
Why two and a half hours? On a weekend? Because online courses can be very profitable. There are lots of puzzle pieces and he doesn't want you to screw this up.
If you can't attend and want him to send you the replay, register anyway.
4. Hound Video of the Week
Diesel decides to stroll around the neighborhood biting down on the lid to a cardboard box that keeps him from seeing where he's going. It's a miracle he survived. Thanks to Sophie Wajsman of Melbourne, Australia for this one.