Issue #960 Oct. 17, 2015
Publisher: Joan Stewart
"Tips, Tricks and Tools for Free Publicity"
In This Issue
How to Find Readers for Your Books
Copywriting Trick
53+ Free Image Sources
Hound Video of the Week
This Weekend in the Hound House:

It's c-c-c-c-cold here in Wisconsin, time to gather all the crock pot and soup recipes. One of my favorites: Slow Cooker Lemon Chicken. Super easy, and elegant enough for a dinner party.
1. How to Find Readers for Your Books
Too many authors can't identify the perfect target market for their books or don't know where to begin looking for ideal readers.
An author in my Mentor Program who is launching a nonfiction book has identified her ideal readers as "entrepreneurial or professional women with a salary above $80,000." Their job titles include CEO, COO, director, partner, manager, owner and president. That kind of detail makes it easy to find those women using LinkedIn's advanced search tool. She can also find them in LinkedIn groups for women executives.
But what if your book is fiction?
You can find readers of sci-fi, romance, historical novels, fantasy, erotica and other sub-categories in the thousands of special-interest groups on giant book review and recommendation sites like Goodreads.com and on niche sites like RomanceTimes.com.
Join those groups, participate in the discussion, ask and answer questions, and eventually pull those readers to your website or to your book's sales page.  
Learn more at a paid webinar I'm hosting this Thursday, Oct. 22, from 4 to 5:30 p.m. on "30+ Places to Find Fiction and Nonfiction Readers for Your Target Market." I'll also show you what to do once you find them. I've leaving plenty of time for questions.  
2. Copywriting Trick
It's called the Zeigarnik Principle, and smart copywriters have used it to force you to take a magazine off the rack, open an email, buy a book, click on a link, and stay up late to watch the news at 11.
It's named after Bluma Zeigarnik, the Russian psychiatrist who concluded that the human mind cannot stand unfulfilled curiosity.
"If you think you're safe with expensive home security systems, just wait until you learn what a Cleveland woman found in her basement two days after installing an alarm system…News at 11…"
You can use the Zeigarnik Principle when you write sales pages at your website, email pitches to journalists, book descriptions on Amazon, and any marketing copy.
It's one of five techniques and more than 30 tips that Tom Antion taught on Thursday during the free webinar "Copywriting 901: The Fast Track to Writing Words That SELL." Writing sales copy requires discipline, and a very different style than the way you write books and articles.     
If you missed the session, watch the free replay.
Or go to my blog and read about the five ways you can use the Zeigarnik Principal to turn publicity into profit
3. 53+ Free Images Sources
If you're sick of spending money on expensive stock photos, check out Courtney Setier's list of "53+ Free Image Sources for Your Blog and Social Media Posts."
It includes searchable photo sites, free-form libraries, photo search tools, create-your-own image tools and embeddable media.
She also explains the difference between Creative Commons and Public Domain.  
Thanks to Publicity Hound Mike Wallagher for sharing this with you.
4. Hound Video of the Week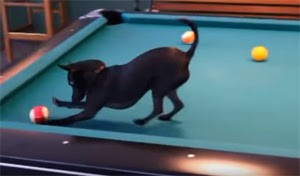 This Chihuahua does a nice job playing pool, sinking one ball after another in the side and corner pockets.