Issue #1248 Aug. 11, 2018
Publisher: Joan Stewart
"Tips, Tricks and Tools for Free Publicity"
In This Issue
How to Delete Your Worst Tweets
A Writing Coach's 50 Tips for Writers
Where to Find "Free Speech" Controversies
Hound Video of the Week
This Weekend in the Hound House:

My gardening friends agree with me. This time of year, we're so done with our gardens. Many of my perennials never bloomed, possibly because I didn't water them enough. I'm turning my attention to canning fruits and vegetables and dragging out all my supplies for beets, cinnamon applesauce, spiced pears, maybe dill pickles and–new this year–canned peaches that I'll make from the crate I buy the next time the peach truck rolls into town.
1. How to Delete Your Worst Tweets

The minute you make enemies, you can count on many of them to head over to your Twitter account and spend hours scrolling through your feed, looking for tweets that are racist, sexist, false, or just plain cringe-worthy. The next thing you know, the screenshots are all over Facebook–and maybe on the evening news.
Back in the days when Twitter was fun, you didn't have to worry much about leaving an ugly trail. But these days, people are losing their jobs, TV shows, and sports contracts because of awful tweets they published years ago, or recently, during a booze or Ambien binge–or a brain fart.
Abby Ohlheiser, who covers digital culture for The Washington Post, wrote a detailed, six-part procedure for deleting your most embarrassing tweets.
Step 1 is to emotionally prepare yourself to remove possibly years worth of content that peeks into your life and sometimes bares your soul. Step 2 is to download the archives so you don't lose anything, and Step 3 begins the process of deleting.
To do: Read about the entire process in her article "There's no good reason to keep old tweets online. Here's how to delete them."  If you can't access this article because of a paywall, Google "how to delete old tweets" and you'll find lots of articles, including this one by Poynter's Ren LaForme. 
#Twitter #TwitterTips
2. A Writing Coach's 50 Tips for Writers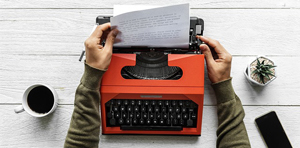 Whether you're writing a book, article, press release, marketing materials or website copy, you'll eventually run head first into a mental brick wall that stops you cold.
Break free from writer's block with a list of writing tips (he calls them tools) from Roy Peter Clark. He's an American writer, editor, and teacher of writing who has become a writing coach to an international community of students, journalists and writers. Here are three of my favorites.
Writing Tool #7: Dig for the Concrete and Specific
Always get the name of the dog. (The Publicity Hound reminds you to mention the breed too.)
Writing Tool #9: Prefer Simple to Technical.
Prefer the simple to the technical: shorter words and paragraphs at the points of greatest complexity.
Writing Tool #35: Use Punctuation
Proper punctuation can help a writer control how fast–or slow–a reader goes.
To do: Find inspiration in his list of "50 Writing Tools." If you need feedback or coaching on press releases or marketing materials, or you need help with publicity ideas for your product or service or a book launch, reserve a Rent My Brain session. It includes a copy of the video I'll create during our GotoMeeting session, along with all notes so you can refer to them later.
#WritingTips #WritingTools
3. Where to Find "Free Speech" Controversies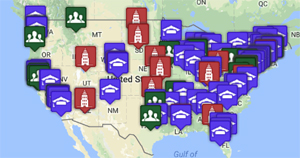 Every day in the United States, the First Amendment to the U.S. Constitution is exercised, tested and debated.
On college campuses, students shut down speakers with whom they disagree.
In state capitols, lawmakers are passing laws to regulate public protests.
On social media, the giant tech companies are banning users who they say violate their terms of service by spreading hate speech.
If you want to generate publicity by piggybacking onto the controversies, I found a handy tool that's much quicker than simply relying on Google Alerts. It's the Free Speech Tracker, a color-coded map that pinpoints and monitors free speech controversies in U.S. civil society and on college campuses across the country, and at all levels of government, especially in state legislatures.
It's part of Georgetown University's Free Speech Project and it claims to be nonpartisan. You be the judge.
To do: Read more about the Free Speech Tracker. 
#FreeSpeech #HateSpeech
4. Hound Video of the Week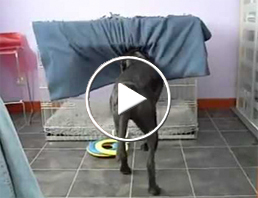 Thanks to Publicity Hound Kathleen Mahan of San Juan Capistrano, CA, for sharing this precious 13-second video that shows what a dog does when the air conditioning is on full blast and it's way too cold.