Issue #1178 Dec. 2, 2017
Publisher: Joan Stewart
"Tips, Tricks and Tools for Free Publicity"
In This Issue
How to Deal with a Lousy Editor
Tips for Cold Emailing Event Sponsors
Apps to Edit Images on the Go
Hound Video of the Week
This Weekend in the Hound House:

Today is the last day I can haul my yard waste to the city yard. Guess where I'll be all afternoon? Nothing in my perennial garden has been cut down yet, and I need to dig up all the dahlia bulbs, wash and dry them and pack them away for the winter. Luckily, the forecast calls for sunshine, a high of 51 and no rain.
1. How to Deal with a Lousy Editor

When I saw a Ragan.com article on how to deal with horrible editors, I thought to myself, "I've had one of those."
My editor at the high-traffic website that accepted my free articles was a royal pain. She'd often send the first version back to me with suggestions on how to improve it, such as quoting more sources. No problem.
Then she'd return the article again, with more suggestions. Once, after numerous revisions, she decided not to publish it. I was furious. My energy depleted, I dropped out of sight and never went back, even after I discovered she has left.
Here are three tips for working with a bad editor:
First, decide if it's worth it, especially if they aren't paying you. There are enough high-traffic blogs and websites that you should be able to find one that will treat you better. See "From HBR to Mashable: How to Be a Guest Writer on 11 Popular Sites."
If you're a paid freelancer or if you decide you want to keep writing for free, ask the editor if she'd agree to a quick phone call. Tell her you're struggling to understand exactly what she wants, and ask for her guidance on what you can do to avoid rewriting multiple versions of the same article. In other words, "What am I doing wrong?" Tell her you want to nail it the first time but that you're always open to feedback. This lets her know you aren't a prima donna.
Don't go over her head, even if you've already spoken to her. Her boss might label you as a trouble-maker. Move on, and never bad-mouth her or the website where your articles appeared. 
To do: The Ragan article deals mostly with working journalists and freelancers. It's still worth a look. See "Try these tactics for coping with horrible editors." 
#Freelancers #BadEditors
2. Tips for Cold Emailing Event Sponsors
You want a company to sponsor an event, but you don't know anyone there to make an introduction.
The only alternative is a cold email. Ugh.
Help is on the way.
Job 1 is convincing them to open your email. A subject line that reads "Met you at [event]. Let's connect!" or "Your article on [headline]" would catch their attention.
Now, you need to keep it.
To do: Read "3 Tips for Cold Emailing Event Sponsors," courtesy of Eventbrite and Grammarly. My tips If you have a good publicity team in place, let them know that too because it means more exposure for them.
#EventSponsorship #Sponsors
3. Apps to Edit Images on the Go
You took a sassy photo that you want to share on social media. But it would look so much better if you could lighten just one section of it. Or add a filter. Or balance the contrast in light.
You might even want to blur a distracting background.
But you're away from your desk. And time is short. What do you do?
Social Media Examiner recommends a few mobile apps that will help you edit images on your mobile phone. They'll require a little patience, but they'll get the job done.
To do: See "7 Mobile Apps for Editing and Enhancing Images." 
#MobileApps #PhotoEditing
4. Hound Video of the Week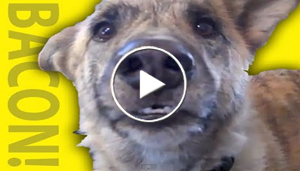 This one's called the Ultimate Dog Tease, part of the Talking Dog series. More than 190 million views!