Issue #1065 Oct. 18, 2016
Publisher: Joan Stewart
"Tips, Tricks and Tools for Free Publicity"
In This Issue
How Political Rants Harm You
Avoid These Graphics Problems
Advice from 20+ Publicity Experts
Hound Video of the Week
This Week in the Hound House:

I miss Bear, the Chocolate Lab/Springer Spaniel that I dog-sat over the weekend. Every time she wagged her tail, more than a foot long, it kept thump-thump-thumping against my leather furniture, the bed or the kitchen cupboards. And when she heard a doorbell ring in a TV commercial, she went nuts. Just her way of saying, "I'm here to protect you."
1. How Political Rants Harm You

Before you write that snarky tweet about Trump, or share that meme that mimics Hillary, consider how you could be damaging yourself by spouting your political views.
A meeting planner who has connected with you on LinkedIn sees your rant in a status update. Yes, otherwise smart people actually talk politics on LinkedIn. She had been considering hiring you to speak at her conference but now she's not so sure. Would you slip in a political opinion during your presentation? She concludes it isn't worth the risk. Ditto on Twitter.   
One of your clients who sees you complaining about the candidate he's supporting decides you aren't as smart as he thought you were.
A journalist who reads your endorsement of your favorite candidate in your email newsletter or blog asks if he can interview you for a story he's writing.
It's a story over which you have no control.
If your job ties into politics, have at it. But if it doesn't, think twice about how the publicity can hurt you. The temptation might be irresistible after tomorrow night's debate.  
To do: Stop yourself when you're ready to Like, Comment or Share someone else's tirade.
#politicalrants #politicsinbusiness
2. Avoid These Graphics Problems

Two graphics mistakes that make you look less than professional:
Any image that's difficult to read when it's reduced. Many podcasters try to squeeze too much information into the tiny piece of "cover art" that appears on sites like iTunes. At 125 by 125 pixels, slightly larger than one square inch, viewers can't decipher things like taglines in a small type size, or small logos that include words. See "How to Design Stunning Podcast Cover Art That Stands Out in iTunes."
Grainy or out-of-focus header photos on your social media profiles or your website, most often because you resized the image to be larger than the original. If the image looks "stretched," it's probably because you didn't use a photo editing program that resizes the photo to the correct dimensions.
 To do: Review all your social media header photos. Before you sign off on any new images your graphic designer has created, view them in the appropriate size they will appear on a monitor, tablet and mobile phone.
#podcastcoverart #resizingphotos #headerphotos
3. Advice from 20+ Publicity Experts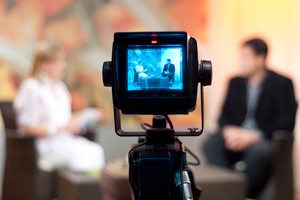 Small business owner Carmen Ring interviewed me recently on what it takes to get featured in the major media.
What are they looking for? What makes a great story? How can your pitch break through the noise and grab their attention?
In the 20-minute interview, I shared some of my best tips. So did more than 20 other experts who Carmen interviewed about how to attract clients through media attention.
You can get free access to the audio interviews, one per day for the next three weeks. You will learn the first steps to take when you're thinking about media coverage, what makes a great story, and the right time to approach the media.
Every speaker has a free gift for you, too.
To do: Register here. Check your email on Thursday for the first interview in the series.
#publicityexperts #publicityadvice #publicitytips
4. Hound Photo of the Week
Even when he's sleeping, Max the Golden Retriever feels the need to sing! Watch as he gets into the music while his owner plays the harmonica.