Issue #1278 Nov. 23, 2018
Publisher: Joan Stewart
"Tips, Tricks and Tools for Free Publicity"
In This Issue
How a Speaking Fee Sells More Products
SpeakerMatch Finds Events That Need You
How to Get Started as a Paid Speaker
Hound Video of the Week
This Weekend in the Hound House:

I've seen dozens of movies this year. The best, by far, is Green Book, the story of Dr. Don Shirley, a world-class African-American pianist who hires Tony Lip, a tough-talking bouncer from the Bronx, to drive and protect him during a concert tour in the Deep South in 1962. Ignore the uppity reviewers from NPR and the Wall Street Journal and see this one over the weekend. Audiences loved it.
1. How a Speaking Fee Sells More Products
If I had to choose one strategy you should concentrate on next year to promote your expertise, it would be public speaking, for a fee or for free.
Today's tips concentrate on tools you can use to start or boost your speaking career.
Here's the first one. Judith Briles, aka The Book Shepherd, recommends you set a fee, even if it's just a few hundred dollars and you're new to speaking. That doesn't mean you have to turn down speaking gigs if the client can't pay. A fee is a base from which you can negotiate.
"If you have a book, you can make a special offer to get around the fee," Judith says.
For example, you can say, "In celebration of my new book, I'm waiving my speaking fee for the first 10 groups who invite me to present." Or you can waive the fee if the host group agrees to buy a certain number of your products or books in bulk and give one copy for free to each audience member. Many groups have budgets for educational materials in addition to money set aside for speakers' fees.
"What you are doing is getting your foot in the door," Judith says. "You want to start moving your fees up-—$1,000 usually means you are a beginner; $2,500 more experienced, etc. Many meeting planners don't think you are worth much unless there is at least a $3,500 to $5,000 price tag on your services. It doesn't mean that you can't negotiate to work within their budgets. But please, put a value on what you bring."
To do: Get a copy of Judith's contract with meeting planners and tweak it for your own needs. It's free when you buy her new book, "How to Create a $1,000,000 Speech – Learn how to write a speech; become a public and professional speaker; and talk like TED", available in print, ebook or audiobook.
#AuthorMarketinmg #PublicSpeaking
2. SpeakerMatch Finds Events That Need You

Somewhere out there, a meeting planner is looking for you. One of the best ways to be found is to go where the meeting planners go: to SpeakerMatch.com.
SpeakerMatch reaches emerging professional speakers, business leaders, technical gurus, educators and other subject-matter experts who want to communicate what they know and who do not work fulltime at a speaking career.
SpeakerMatch allows event organizers and meeting planners to post open calls for speakers on their site, at no cost.
You will receive direct requests from meeting planners as well as open calls for speakers. And you can search an online database for more opportunities.
It's as easy as plugging in your information. SpeakerMatch does the rest and gives you tools that make it simple to create a professional looking profile. It's like having your own website with the added bonus of built-in traffic.
Through the end of November, SpeakerMatch is offering a special deal. If you sign up for a basic Silver level membership at $9.99 for 4 weeks, you can then immediately upgrade to take advantage of their super Black Friday offer. They'll upgrade your service level right away and ADD a year to your membership. That gives you an extra month of their top-level service for only $9.99!
To do: Take advantage of this opportunity, good through the end of November, using this affiliate link.
#SpeakerMatch #PaidSpeaking
3. How to Get Started as a Paid Speaker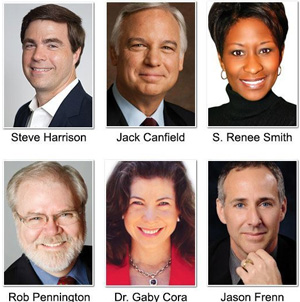 Setting your speaking fee and pitching meeting planners sounds easier than it really is. That's because competition for speaking gigs is fierce.
But you don't have to devise your own strategy. Do what the most successful speakers have done, and learn from their mistakes.
On Wednesday, during a free teleconference, six successful speakers will explain how they found companies and organizations that have budgets to pay speakers handsomely, even if the speakers are just starting out or have ordinary topics. Register here. 
Hear Steve Harrison, Jack Canfield, S. Renee Smith, Rob Pennington, Dr. Gaby Cora, and Jason Frenn tell you how to get started and succeed in the lucrative world of paid public speaking. They all have different topics and audiences, but they have one thing in common: They all know how to get paid very well to speak, whether they're presenting at corporations, associations, universities, churches or women's conferences.
On this 90-minute call, packed with free advice, you will learn:
–Why you shouldn't ask for less than $3,000 as a speaking fee, even if you're a complete unknown with an ordinary topic, and why it should often be more than that.
–How to be well-paid to deliver a spiritual message.
–Five critical steps for landing speaking engagements, especially when you don't have a lot of time to market yourself.
–Why you don't need a lot of fancy materials to land speaking gigs, but what you DO need to give them instead.
–Proven ways to brand yourself and your message in a way that will prompt a flood of requests for speaking engagements.
–Specific things to do before, during and after you speak so that the audience loves you and you get invited back again and again.
–How to use LinkedIn to get more invitations to speak.
To Do: Choose the free teleconference at 2 or 7 p.m. Eastern. Register for "How to Become a Highly-Paid Speaker As Quickly As Possible – Especially If You're Not Yet Famous" using this affiliate link.
#AuthorTips #BookMarketing
4. Hound Video of the Week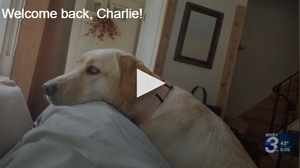 A New York couple's 2-year-old yellow lab, Charlie, escaped from their car after it was involved in a serious crash on Interstate 81 in Virginia on Monday this week. See what happened, thanks to a Facebook posting about the lost dog.