Issue #1239 July 10, 2018
Publisher: Joan Stewart
"Tips, Tricks and Tools for Free Publicity"
In This Issue
Free Wikipedia Training Thursday
13 Ways to Promote Before You Publish
How to Promote the Day of an Event
Hound Video of the Week
This Week in the Hound House:

The last several weeks, I couldn't stop Googling stories and videos about the Thai cave rescue. This morning, when I read they were all safe, I still kept searching for every morsel of information I could find. What a testament to the power of prayer! Now it's back to work, drumming up some last-minute publicity for my Garden Club's annual garden walk on Saturday.
1. Free Wikipedia Training Thursday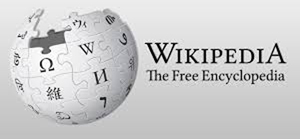 I'm not embarrassed to admit that of all the websites where Publicity Hounds can have a presence, the one I struggle to understand the most is Wikipedia.
It seems like the only people who know how it works are the folks behind the free encyclopedia, written collaboratively by millions who use it. It's the world's fifth largest website, and it comes up high in Google search results.
The problem for Publicity Hounds, however, is that the information we find there, often for research, can't be considered 100 percent accurate.
Take advantage of free training, courtesy of the Poynter Institute, at 2 p.m. Eastern Time this Thursday, July 12. The webinar is specifically for journalists but there's no reason why you can't attend too.
You will learn exactly what you can and can't do with the site, how to verify information found there, how to use it as a resource for your blogs and articles, how to ensure your companies Wikipedia information is accurate and up to date, who can edit pages, how to edit them, and how to use Wikipedia to enhance your own work.
To do: Register for the free session "Wikipedia: What Journalists Need to Know About One of the World's Largest Websites."  You'll need to first create a Poynter account with a username and password.
#Wikipedia #WikipediaTips
2. 13 Ways to Promote Before You Publish
Most authors don't start promoting their books until a few weeks before they're available on Amazon. Big mistake.
"For a self-published author, a swell of preorders can trigger algorithms that wake retail sites like Amazon to your book's presence," writes Therese Walsh, co-founder of Writer Unboxed, a site devoted to the craft and business of fiction. "This makes it more likely that a book will appear in 'hot new release' lists, which can increase not only preorders but post-publication sales and even name recognition."
Here are three of her ideas on how to promote at least six months before you release your book. These tips work equally well for nonfiction:
–Share your publishing journey across your author platform — blog, Facebook page, Twitter profile, and so on — and build excitement among your fans. Don't just share sales links. Share your milestones–your cover reveal, a great early review–in a way that makes others feel invested.
–Start an email newsletter. Include an excerpt, preorder links, and some compelling inside information about the book and your personal connection to it–perks that make your loyal fans feel special.
–Add information about your new book in the back of older ebooks. Do this, and each book you write in essence becomes an ad for the next book.
To do: Read all her tips in the article "13 Ways to Promote Before Publication." Then reserve 1 hour and 45 minutes to watch the video I created on "How to Use Email to Attract Fans, Create SuperFans & Sell More Books." 
#bookmarketing #prepublication
3. How to Promote the Day of an Event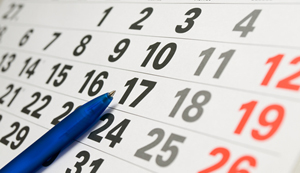 Local businesses that have electronic signs with scrolling messages are often looking for messages other than their own.
This is a fabulous opportunity for Publicity Hounds. When I do publicity for my garden club, I submit a short one-liner to the businesses stating the name of the event, the time and date and a website address or phone number where people can get more information.
We also submit event details to our local Chamber of Commerce because tourists often call there, especially during the summer, to find out what's happening the weekend they'll be visiting. We include a mobile phone number on our marketing materials so people who have questions the day of the event can reach us while we're at the event working.
And let's not forget last-minute reminders on social media.
To do: Pick up lots more tips in the blog post I wrote last year on "How to Publicize a Garden Walk and Other Local Events." The day of the event, forward calls from your home phone to your mobile.
#EventPublicity #EventPR
4. Hound Video of the Week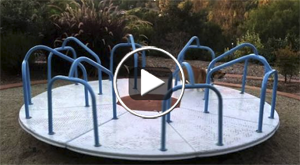 Meatball, an adorable Pembroke Welsh Corgi, runs around and around on this carousel. But be careful. You might get dizzy by the time the video is done.