Issue #1046 August 13, 2016
Publisher: Joan Stewart
"Tips, Tricks and Tools for Free Publicity"
In This Issue
Free Tool Makes Explainer Videos
Cure for Writing Dull Headlines
Ghostwriting Course Starts Wednesday
Hound Video of the Week
This Weekend in the Hound House:

Here they are in all their glory: the gorgeous 11-inch-wide blooms that finally popped opened on my hibiscus. What really has me pumped is the offer from one of my readers to send a few cuttings of the rainbow hibiscus she grows. Go ahead. Google "rainbow hibiscus photos." Don't they look like paintings in an art museum?
1. Free Tool Makes Explainer Videos

If you dislike getting gussied up, cleaning your office and hassling with the technology involved in making videos of you talking to the camera, here's an alternative.
It's PowToon, cloud-based software for creating animated presentations and animated explainer videos.
The 34-second video you see here took me about 35 minutes to create, with lots of editing. At times, I found myself stumped as to what I was supposed to do next. The second one should go a lot faster.
You'll have to upgrade to a paid version if you want to remove the PowToon branded slide at the end, or if you want to be able to download the video. The free version lets you upload your creations to Vimeo, YouTube, Facebook and Twitter. Because people share video more than any other type of content, this tool can help you gain followers, likes, shares, retweets and comments.
One word of caution: The video title it asks you to create is the same title  that will show up on YouTube. And the amount of space it allows for a video description is minuscule compared to the 5,000 characters YouTube allows. After you've uploaded it to YouTube, go back to your channel, add a longer description and more tags.
To do: Give it whirl at PowToon.com. Then hop over to the video I created on YouTube and explain in the Comments whether you like it, or if you've found a better free program for these kinds of explainer whiteboard videos.
2. Cure for Writing Dull Headlines
Here are three formula headlines that caught my attention and made me click. Change just a word or two, and use them as your own.
Fun facts and sad truths about hospitals (and hospital bills)
Fun facts and sad truths about _________ (and _____________)
Is your birth control messing with your head?
Is your ______________ messing with your head?
28 ways to make your bathroom cleaner than it's ever been
__ ways to make your ________ _______ than it's ever been
Where to find more like these? In my video training package "Headline Tips, Tricks, Tools & Templates That Make Readers Click." I teach you how to write killer headlines and, if you're too busy, where to find thousands more templates like the ones above, ripe for tweaking and stealing. Save $24.98 when you use coupon code "headlines" at checkout (click on apply and recalculate.) Order here.
3. Ghostwriting Course Starts Wednesday
Freelancers, authors, corporate writers and others who want to add ghostwriting to their services still have time register for the Ghostwriting Professional Designation Program offered by Cal State Long Beach.
The intensive online course begins Wednesday, Aug. 17, and continues for 10 months, with a few breaks built in so you can catch your breath and enjoy the holidays. Instructor Claudia Suzanne, who has ghostwritten 150 books, is accepting only 12 students. Registration will be open until 11:59 p.m. Monday night, Aug. 15, or until the class is filled. Several Publicity Hounds registered during the webinar I hosted on Tuesday with Claudia on "Ghostwriting: How to Learn It, Do It & Retire Happy."
This program is perfect for writers who want to change careers or ghostwrite after they retire. The course is $3,760 and can be paid over 10 months. You pay for each module before you take it, and you must complete the entire course to be certified. LinkedIn, by the way, has a separate section on your profile for certifications.
This is unlike most of the other training I promote. It doesn't teach you a craft or a skill. It teaches you how to start a new career and make from 5 to 10 times what you might be making now.
To do: If you couldn't join us live, watch the replay here or go directly to the registration page. But don't register until you watch the webinar, designed to help you decide if you are a good candidate for this course. You must let Penni Wells of Cal State know you heard about it through me if you want two free hours of my consulting (worth $600) after you're certified.
4. Hound Video of the Week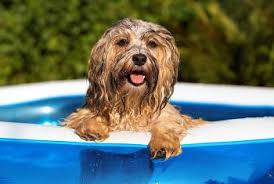 No wonder we're in awe of the U.S. Olympic Swim Team. They used therapy dogs to reduce the anxiety at their Olympic trials in June. Watch it here.