Issue #1190 Jan. 16, 2018
Publisher: Joan Stewart
"Tips, Tricks and Tools for Free Publicity"
In This Issue
Free Tool Creates Blog Ideas
Find Creative Commons Photos Fast
What Rich Authors Do Differently
Hound Video of the Week
This Week in the Hound House:

If you want to see an engrossing movie, skip "The Post" and see "I Tonya" instead. We saw both over the weekend and agreed there's no comparison. "Tonya" is a fun, fast-paced black comedy that will bring back memories of "the incident" with competitor Nancy Kerrigan. Allison Janney, who plays Tonya's profane, chain-smoking mother, deserves an Oscar. The movie does too.
1. Free Tool Creates Blog Ideas

The next time you want to write a blog post but you can't think of an idea, use Hubspot's free "Blog Ideas Generator" and you'll have five fresh ideas, within seconds.
It's super simple. All you do is fill in three fields with nouns. I typed "publicity," "podcasting" and "media interviews." Then I clicked on "Give Me Blog Ideas!"
It returned these ideas:
–Why We Love Publicity (And You should, Too!)
–20 Myths About Podcasting
–The Worst Advice We've Ever Heard About Media Interviews
–10 Things Your Competitors Can Teach You About Publicity
–7 Things About Podcasting Your Boss Wants to Know
As you can see, these are all fill-in-the-blank "formula headlines." After you see the list that Hubspot has created for you, feel free to tweak them. If you can't come up with "20 Myths About Podcasting," you could change it to "11 Myths."
To do: Experiment with the Blog idea Generator here and let me know how you like it.
#BlogIdeas #Blogging
2. Find Creative Commons Photos Fast

If you used the tip above and need an interesting photo to accompany your blog post, but you don't want to pay the outrageous stock photo prices, try searching Creative Commons photos the easy way.
Visual Hunt is a free tool that lets you choose from more than 354 million free photos. You can search by category.
Three major advantages of this site:
Unlike the confusing details about what you can and can't do with Creative Commons photos, Visual Hunt explains it clearly.
You can filter and search for photos by topic.
Images come from a wide variety of photographers and designers.
To do: Before you start searching, read the review "Visual Hunt: 354 Million Free Stock Photos."  Then go to Visual Hunt and start searching.
#freestockphotos #creativecommonphotos
3. What Rich Authors Do Differently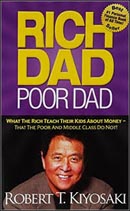 The most successful authors do seven key things differently than the rest.
Here's one I share with my author clients. They don't view their books as the end product. The book is a calling card that leads readers to other products and services, from coloring books to consulting assignments and training programs.
Publicity expert Steve Harrison has worked with and interviewed some of the most successful authors alive today, like Robert Kiyosaki, author of "Rich Dad Poor Dad," as well as some not-so-famous authors who are still very successful.
Join Steve for a free 75-minute telephone seminar today–Tuesday, Jan. 16–at your choice of two times: 2 or 7 Eastern.
You will learn:
Why the seven key differences between rich authors and poor authors aren't obvious things like getting publicity or having a good title (though those things are important).
Why understanding the rich authors' strategies is critical even if you don't really care about money and just want to share your message with others.
How rich authors overcome the many problems and frequent obstacles of the bookstore distribution system.
The "unfair advantage" rich authors use to win the publishing game which 99.9 percent of all authors don't know anything about.
To do: Register for "How to Achieve a Lot More Success as an Author by Discovering the 7 Things Rich Authors Know That Poor Authors Don't" using this affiliate link. 
#authormarketing #publishingtips
4. Hound Video of the Week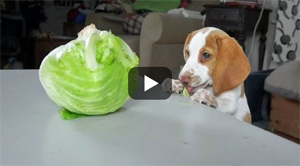 Who knew puppies love iceberg lettuce? Watch these pups devour an entire head.