Issue #1107 March 14, 2017
Publisher: Joan Stewart
"Tips, Tricks and Tools for Free Publicity"
In This Issue
Free Screen-capture Video Tool
Your Story Might be a Movie
How to Pitch in 35 Seconds
Hound Video of the Week
This Week in the Hound House:

"God created the month of March so people who don't drink know what a hangover feels like," says Garrison Keillor. Indeed, judging from the 12 inches of snow in Wisconsin yesterday. If you're a Publicity Hound on the East Coast, bundle up and stay safe.
1. Connect with Charities & Nonprofits

If you want to make a screen-capture video to take people on a tour of your website, or to create training videos like I do, but you dread the thought of learning complicated software programs like Camtasia, you'll do a doggy back flip when I tell you about the easy-peasy, free tool I discovered.
It's ViewedIt, a lightweight Chrome extension that lets you record up to one hour of content on your screen, per video, and create an unlimited number of videos for free. Here's the kicker. You have the option of inserting into the lower left corner a small video that shows you narrating and talk to visitors as if they're sitting in front of you.
Here's a short video I recorded to explain how ViewedIt works. If you're at all flummoxed by technology, you'll fall in love with this.
To do: When you're done watching the video, hop on over to my blog where you can read my list of "21 Ways to Use a Free, Easy Tool for Screen-capture Video." I also listed four disadvantages of this tool, including the fact that you can't edit or download your videos. Let your tech-challenged friends know about ViewedIt using the Share buttons at the bottom of the article. They'll thank you.
#videomarketing #screencapture #freevideotool
2. Your Story Might be a Movie
The Da Vinci Code. The Devil Wears Prada. The Hunger Games. The Help. Water for Elephants. Life of Pi. The Girl with the Dragon Tattoo. The Great Gatsby.
They're all popular movies that probably wouldn't have been produced had it not been for a book by the same name. Could your story be a candidate for the silver screen or a TV movie?
On Thursday, I'm hosting a free call at 4 p.m. Eastern Time with Daniel Hall and Ken Atchity, a Hollywood producer and literary manager for more than 20 New York Times bestsellers. Ken will explain the one document you must have if you want to sell your story, why having a screenplay can permanently ruin your chances, and how drawing one simple line can affect the success of your script.
To do: Register for the free call here. 
#booktomovie #filmrights
3. How to Pitch in 35 Seconds
"Pitch in less than 15 seconds," the publicity experts say.
If your first sentence is compelling enough, the editor or producer on the other end will keep listening or reading your email. And as long as you have their attention, you can take up to 35 seconds to deliver your pitch and convince them to cover your story.
Steve Harrison has a 6-step formula for pitching that has landed his clients on "Good Morning America," the "Today" show, "The View" and many more top-tier media outlets. He'll explain what it is during a free call at 7 p.m. Eastern on Thursday, March 16.
You'll also learn the seven most common types of stories and segments that the media love and how you can make what you're doing fit any or all of them. By the end of the call, you'll know the "magic phrase" that will make your emails stand out from all the other emails that producers and journalists receive.
To do: Register for "The 35 Second Publicity Pitch Formula that Gets You National Publicity Coverage" using this affiliate link. 
#pitchingthemedia #publicitypitch
4. Hound Video of the Week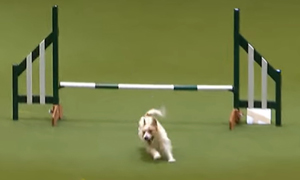 This tumbling Jack Russell wins hearts after a hilariously bad dog show run. "Oh what a nosedive!" the announcer says. "And he couldn't care less."