Issue #1120 May 2, 2017
Publisher: Joan Stewart
"Tips, Tricks and Tools for Free Publicity"
In This Issue
Free App to Share Articles
3 Options for Live Video
Easy Tool to Build an Email List
Hound Video of the Week
This Week in the Hound House:

When I told my girlfriend how four giant mushrooms ended up in my washing machine, she admitted she does dumb things too. A few weeks ago, she was returning home from an errand. While walking from her car to the front door, she absent-mindedly tried to open her front door with the garage door opener that was in her hand. I'm still LOL.
1. Free App to Share Articles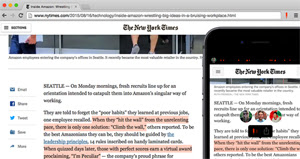 You see an interesting article that you want to share with a friend.
You highlight the web address in your browser, save it to your clipboard, then open your email. You try to type the gist of the article in one sentence, then paste in the web address.
Now there's a quicker, easier way to share. It's Highly, a free tool available as an extension on Chrome and Safari and as an app for the iPhone and iPad.
It turns your cursor into a highlighter. Highlight and share the main points of a story, allowing others to quickly grasp the context. Highlight the first paragraph, a compelling quote, an interesting statistic, or anything you think will encourage your friend to read it. Highly lets you share the excerpt on Facebook, Twitter, Pinterest or via email.
Journalists love the tool because when someone shares their articles, they can see which lines or ideas have struck a chord with readers. (Hint: Share content from writers before you pitch them.) Be careful about identifying what you're sharing as public or private.
To do: Install the app at Highly.co and give yourself time to feel comfortable with it. Let me know what you think.
​​​​​​​
#articlemarketing #contentmarketing
2. 3 Options for Live Video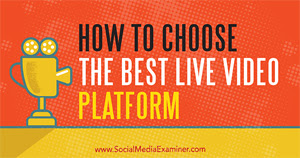 A new study by Cisco Systems predicts that nearly three-fourths of the world's mobile data traffic will be video by 2019. That's a 13-fold increase within the next two years.
If you haven't hopped aboard the video train by then, you'll be left at the station.
When I did consulting sessions with authors attending the Nonfiction Writers Conference yesterday, I stressed the importance of video.
One of the easiest ways to start is by using Facebook Live which requires a Facebook account and a smart phone. You can host your own weekly show and upload each video to your YouTube channel. You don't even have to commit to doing it weekly.
Unlike TV, live social video lets your audience participate by commenting. You can then read and reply to comments and allow the audience to influence the content of your live video as you're creating it.
Facebook, Twitter and Instagram offer live video platforms. Which one you choose depends on the age and social media preferences of your target market.
To do: Read the excellent article "How to Choose the Best Live Video Platform" written by Joel Comm, who has been using live video since 2008.
#livevideo #facebooklive #videomarketing
3. Easy Tool to Build an Email List

If you're building an email list and mailing helpful tips and updates to your fans at least twice a month, congratulations.
Here's an easy way to build your list at conferences or networking events.
Does your email management program have an app for your phone that lets you type the name and email address of someone who wants to be added to your list? Mine does. I use the Atom app provided by AWeber.
Instead of handing my phone to the other person, I ask them for their name and email address and type it myself, then show it to them to make sure it's accurate. With one tap, they're added to my email list. I'm sharing this tip this weekend when I present three sessions at the Oklahoma Writers Federation conference.
To do: Take AWeber's free 30-day test drive using my affiliate link.
If you're wondering, "What about that big Liquidation Sale The Publicity Hound promised?" I'm almost ready to roll it out next week. I keep find more learning tools to offer. Sit. Stay. I promise it will be worth the wait.
#emailmarketing #listbuilding
4. Hound Video of the Week
Thanks to Publicity Hound Sophie Wajsman of Australia for this video of a dog guarding his owner's bike. Watch what happens when the owner returns.