Issue #978 Dec. 19, 2015
Publisher: Joan Stewart
"Tips, Tricks and Tools for Free Publicity"
In This Issue
Fast, Easy Tool for Amazon Reviews
Free Resource for Radio Show Gigs
Other Uses for Trade Show Banners
Hound Story of the Week
This Weekend in the Hound House:

Winter is here in Wisconsin, finally. I dug out Bogie's toasty-warm winter hat, knitted with lots of love by my assistant, Christine Buffaloe. As for me, I couldn't live without my fleece-lined jeans.​
1. Fast, Easy Tool for Amazon Reviews
Fiction author Tower Lowe gets more new reviews for her books on Amazon than she thought was possible.
And almost effortlessly.
"This is a great tool for indie writers," she says. "I simply set up the Book Review Targeter search engine on the reviews of a novel similar to my own."
When it delivers a list of reviewers who are a perfect fit for her book, and whose email addresses or web address are public, she decides which ones she wants to pitch for a review. Using a pre-written template, she composes the request and sends it off within minutes. Easy peasy.
"This product saves hours of time spent sifting through emails and finding email addresses," Tower says.
Book Review Targeter, created by author Debbie Drum, is so easy to use, you barely have to think.
If you missed our webinar on Wednesday, you can see the replay. And get in under the wire before the special discount on this robust tool disappears at midnight on Monday night.
For only $147, far less than what your own time is worth, you can grab Book Review Targeter and use it for every book you write, forever. Debbie promises that as Amazon makes changes to its algorithm or website, the web-based product will be updated to reflect the changes.
Watch the webinar replay and get the discount here.
2. Free Resource for Radio Show Gigs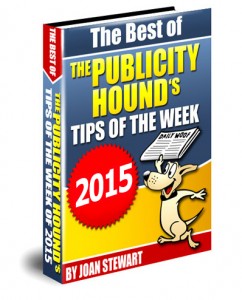 With all the newfangled publicity tools online, it's easy to forget about the oldies but goodies.
Dr. Audrey Sherman, a psychologist and author who was in The Publicity Hound Mentor Program, got an invitation to appear on an NPR show out of Chicago.
The producer found Audrey on RadioGuestList.com, a free email service.
Experts and authors, or PR firms that represent them, can sign up for free email leads. When a talk show needs a certain type of guest, RadioGuestList will email you.
This is one of 24 tips in my new ebook, "The Best of The Publicity Hound's Tips of the Week." It's my annual gift to you this holiday season. And you can regift it and share a tip or two with your own blog or ezine readers, or on social media.
Grab the book at The Publicity Hound blog.
3.  Other Uses for Trade Show Banners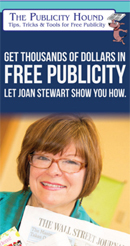 For years, I kept putting off creating a trade show banner–an unnecessary expense since I don't buy vendor space at trade shows.
When I knew I needed one for a speaking gig in January, I finally did it.
I love my new banner, even though I made three mistakes when creating it.
I walk you through exactly what I did, the vendors I used, and what I would have done differently. Go to my blog and read "9 Other Ways to Use a Trade Show Banner for Marketing."
Share a link to your own banner, or add your ideas to my list, in the comments section.
4. Hound Story of the Week
Thanks to Dan Janal of PRLeads.com for this touching story about Sparkey, the Springer Spaniel that was brought back to life by his owner, Tom Foster, after the dog drowned during a hunting trip.