Issue #1173 Nov. 14, 2017
Publisher: Joan Stewart
"Tips, Tricks and Tools for Free Publicity"
In This Issue
Facebook Live Cheat Sheet
How to Know if You Need a Publicist
How to Give a TEDx Talk
Hound Video of the Week
This Week in the Hound House:

I'm scrambling to clear the yard of all the garden art, plant stands and pots before the first snowfall. Usually, I'm racing around at last minute, while the flakes are flying, trying to pack everything into the shed for the winter before I have to dig out the snow blower.
1. Facebook Live Cheat Sheet

Facebook Live remains one of the easiest ways to create video.
You have the advantage of live streaming, and you can share the recording on the social media sites, including YouTube which pulls traffic like a magnet. And you don't need a lot of fancy equipment.
But as Facebook Live becomes more popular, competition for viewers will continue to heat up, with a greater bigger emphasis on quality. 
Facebook expert Mari Smith has compiled a nifty PDF cheat sheet that lists all the gear she uses for her Facebook Live videos, and those she produces in her studio. It lists her recommendations for lighting, microphones and cameras. Each section is split into mobile and studio. That is, gear you use with your smartphone for professional video on the go, and more stationary gear for your in-home studio.   
To do: Read her cheat sheet , even if you want to do only Facebook Live and bypass video production in a studio.  
#FacebookLive #FacebookVideo
2. How to Know if You Need a Publicist
During a consulting session yesterday, a client who's new to pitching the media asked if hiring a publicist will increase the chances that the media will cover his story.
In other words, would the media rather hear from a publicist, or from someone like you?
My answer: The media will welcome a succinct, compelling story idea, regardless of who's pitching it. 
The best publicists have a golden list of media contacts. They can help you identify story ideas you might not recognize. They know how to follow journalists on social media and start building the relationship long before they email a tantalizing pitch. They also know how to follow up without being a pest.
Problem is, lousy publicists infect the PR world.
If you can afford to hire a publicist who has a track record of success, you're lucky. If you can't, you can still be a Publicity Hound extraordinaire.        
To do: Keep reading these tips twice a week. Subscribe to my blog where you'll find helpful advice like "How to Know When You Need to Hire a Publicist." And if you can't afford one, Rent My Brain and let me help. 
#Publicists #PR
3. How to Give a TEDx Talk

Two big advantages of giving a TEDx Talk
The recording is available on YouTube, and it isn't uncommon for hundreds of thousands of people to view it.
Delivering these prestigious programs gives you immense credibility.
Two big disadvantages:
Most TEDx organizers are flooded with applications from far more would-be speakers than they can accept. Many only accept those based on very narrow criteria, such as being associated with a given university.
The quality of the video varies dramatically depending on the organizer.
My friend Steve Harrison and his team have helped 19 of his clients land TEDx talks in the last few years. They've learned an enormous amount in the process, and they'll be sharing some of that wisdom in a live web class tomorrow, Wednesday.
 
To do: Join Steve's free training on "How to Land a TEDx Talk (and Other Tips for Becoming a Successful Speaker)" Nov. 15 at your choice of times: 2 or 7 p.m. Eastern. Register using this affiliate link.
4. Hound Video of the Week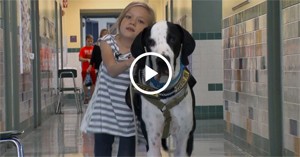 Meet 11-year-old Bella who weighs only 43 pounds, and George, her really Great Dane who weighs three times more than she does and helped her walk again. She suffers from a rare genetic condition that affects her bones and limits her mobility.