Issue #997 Feb. 23, 2016
Publisher: Joan Stewart
"Tips, Tricks and Tools for Free Publicity"
In This Issue
Email Training Thursday for Authors
Important LinkedIn Change
How to Promote Your Blog on Twitter
Hound Video of the Week
This Week in the Hound House:

Thanks for your many tips on how to battle a sinus infection which I suspect is just a bad cold. Publicity Hound Clara Mae Watrous writes: "I have had success with taking two garlic cloves and 1/2 an onion and blending them in 1/2 cups of water. Strain the juice out and refrigerate. Dosage is 2 tablespoons of juice in one glass to begin with, then 1 tablespoon in a glass of water every four hours afterwards until the juice is all gone or until you are well. It's a powerful 'antibiotic mixture' and is soothing to the throat.
1. Email Training Thursday for Authors
If I wrote romance novels, I'd start building an email list and pushing out content weekly to my subscribers to keep them interested and engaged. I'd write about things like:
The best places in (city) for a first date.
The advantages to marrying late in life.
Why TV shows like "The Bachelorette" harm young men and women.
The top 5 websites for inspiration on how to write a love note.
Topics you should never, ever discuss with your honey in a text message.
Phrases to ban from your vocabulary ("I hate it when you…." and "You make me feel guilty when….")
I'd also send items about my book launch, book signings and speaking engagements. Because I've been sending compelling content every week, those wouldn't look like blatant promotions out of the blue.
Whether you write fiction or non-fiction, and regardless of yoru genre, you can use an email list as a powerful marketing tool to build platform, attract fans and keep them connected to you.
Join me for a free webinar I'm hosting from 4 to 5:30 Eastern this Thursday, Feb. 25, on "How to Use Email to Attract Fans, Create SuperFans and Sell More Books." Register here. 
Arrive 5 minutes early and you'll get a gift worth $50. Stay until the end and you get 3 "Super Tips."
To do: After you register, read my list of 21 more ideas on email topics for authors at my blog. 
2. Important LinkedIn Change
If you post articles to your LinkedIn profile, the link to your author page will change, starting March 8. It will look like this:
http://www.linkedin.com/author/yourname 
Your author page is where your posts are compiled in one place, making it easy to share with others. You can see what my author page looks like above and here.
To do: If you've shared a link to your author page in your email signature, on a personal blog or on other social sites, be sure to update it before March 8. Your posts are also listed on your profile. But there's nothing else you need to do there. Check your email for a notice from LinkedIn. Mine arrived this morning.
3. Promote Your Blog Posts on Twitter
Frustrated because you're writing great content for your blog but you're not pulling traffic?
SocialTimes has six fabulous tips on how to promote your posts on Twitter without buying ads. Here are three:
Tweet your posts often and strategically, a few times over a 24-hour period and several times over the next few weeks.
Always include an image. Make sure your blog post has at least one image associated with it, and include the image every time you tweet it out.
Tag influencers in your industry if the content would appeal to them. If they like what they see, they'll retweet or share it.
To do: Read all the tips here and start promoting.
4. Hound Video of the Week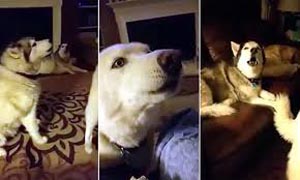 Thanks to Publicity Hound BL Ochman of New York City and Pawfun.com for another hysterical video. This one shows dogs singing "Puppy Love." One dog starts singing and the others chime in. We were both howling when we watched this.