Issue #1322 Aug. 20, 2019
Publisher: Joan Stewart
"Tips, Tricks and Tools for Free Publicity"
In This Issue
Don't Post Bad News on Social Media
Newsjack Epstein, Passports & Vaping
National Publicity Summit Deadline
Hound Video of the Week
This Week in the Hound House:

What do to with all those tomatoes? Make The Publicity Hound's Tomato Pie, one of my favorite recipes. To cut down on the calories, I'll try it with a cauliflower crust and low-fat cheese. But what about all that mayo? Google tells me to use whole milk Greek yogurt for baking, not the nonfat kind I usually buy. Important: Squeeze as much juice from the tomatoes as possible or the pie will be runny. I prefer to peel the tomatoes.
1. Don't Post Bad News on Social Media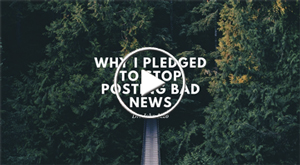 I seldom read my Facebook and Twitter feeds because they're so depressing.
"Trump is a white supremacist." "Biden is senile." "Greenland is melting." "An aborted baby was found in trash dumpster."
Dr. John Izzo, a bestselling author and corporate advisor who speaks on the world of work and is an advocate for sustainable living, is depressed by all the bad news, too. He finds the comments on those posts equally disturbing. The mob piles on, bitches, but seldom suggests solutions.
"So I made a simple pledge," Dr. Izzo said. "I would no longer post the latest bad news. Instead, I would only post stories about people stepping up to try to something about the big problems we face."
He refers to studies done in hotels trying to convince people to reuse their towels to save energy.
"Turns out the best way to get people to do that is to post a sign in the bathroom that says something like '80% of the people who stay in the hotel choose to re-use their towels.' The average increase in compliance was 20%! It went up another 10% when you changed it to '80% of the people who stayed in THIS room.' In other words, all the signs about the world going to hell in a handbasket didn't motivate people, but saying other people were stepping up motivated them."
I love this. He's not telling you to bury your head in the sand. But instead of complaining about a problem like the filthy tent cities in Los Angeles and San Francisco, share a story that suggests ways to deal with the mental health issues and drug and alcohol problems among much of the tent city population.
To do: Watch the video above. The next time you're tempted to post a bad news item that offers no solution, remind yourself that you aren't just boring your followers. You're depressing them. Thanks to Publicity Hound Jo Steinberg of Milwaukee for sharing Dr. Izzo's advice.
#BadNews #SocialMediaTip
2. Newsjack Epstein, Passports & Vaping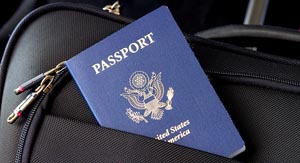 Three recent stories ripe for newsjacking:
—Jeffrey Epstein wrote his will only two days before his death. Attorneys, therapists, professional organizers, financial advisors, authors, speakers and experts who can tie into this topic can offer tips on the consequences of not making out a will, even for people who don't have a multi-billion-dollar estate and own two islands like Epstein does. How much time and trouble must a next-of-kin endure to get into a dead relative's bank account? Or transfer a car title? Or find out exactly how much other money is out there and where? I'm friends with otherwise smart people in their 60s and 70s who own property and have investments and children. Yet they don't have wills. We do people wait?
–Starting last year, the IRS has been denying new or renewed passports for U.S. residents who owe more than $51,000 in back taxes. This week, it sent letters warning that it will actively begin referring unresolved cases to the State Department for potential revocation. This decision affects thousands more people who are behind. CPAs, accountants, Enrolled Agents, attorneys, and travel agents, call your local TV stations and tell them you can offer tips on how people who owe can avoid having their passports revoked.
–The federal Centers for Disease Control and Prevention is investigating 94 sudden cases of severe lung disease linked to vaping in 14 states. Wisconsin, Illinois, California, New York, Indiana, and New Jersey have the most cases. This story is perfect for parenting experts, doctors, and clinics. Vaping store owners, is this much ado about nothing?
To do: Book a 30-minute or one-hour Rent My Brain session with me and we'll discuss how to pitch your own angle on breaking news, and also how to promote yourself or your business in ways you've never considered.
#Epstein #BackTaxes #Vaping
3. National Publicity Summit Deadline
If you've toyed with the idea of attending the National Publicity Summit Oct. 23-26 in New York City but you aren't sure if it's worth it, this might help you decide before the price goes up this Thursday.
Meredith Iler got her charity featured on the Today Show.
Mary Reilly was quoted in the New York Times.
Gaby Cora became a regular on Fox News Channel.
Connie Bennett got coverage in Time magazine.
Ron & Lisa Beres also appeared on the Today Show. So did Linda Franklin as well as Dave Farrow.
Mark Amtower and Rory Cohen each landed a full-page story in Entrepreneur (and Rory also scored The View!).
Steve Shapiro was the subject of a big story in O the Oprah Magazine after meeting the writer at my Summit.
Lauri Loewenberg appeared on both ABC's The View and Good Morning America.
Jim Vonmier got on the CBS Evening News and Early Show as a result of the training and contacts he was given.
Barry Spilchuk was interviewed on Fox News Channel within just five hours of meeting the producer at the Summit!
Harrison Forbes got booked on national TV but also landed a major book deal.
But being covered by these media outlets isn't, by itself, enough. You must know how to make the most of each interview so it helps you sell your product or service. That comes with the training Steve Harrison provides after you register and before you attend.
To do: Read more about what happens when you meet dozens of influential journalists behind closed doors using this affiliate link for the National Publicity Summit.
#NationalPublicitySummit #MajorPublicity
4. Hound Video of the Week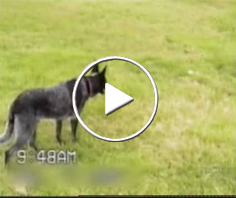 This dog listens to every command from his owner before getting the ball on the count of three. I wish I had a fraction of his patience.