Issue #1225 May 22, 2018
Publisher: Joan Stewart
"Tips, Tricks and Tools for Free Publicity"
In This Issue
Dirt Cheap, Accurate Transcription
Why Indie Bookstores Are Growing
How to Become an Author Expert
Hound Video of the Week
This Week in the Hound House:

After a weekend of back-breaking weeding, planting and fertilizing, I'm finishing up my "before Memorial Day" tasks in the garden so I can play all weekend. The major chore is teaming up with my neighbor to live-trap a giant groundhog, a destructive pest that's digging dirt tunnels in my neighbor's shed and creating havoc in my garden.
1. Dirt Cheap, Accurate Transcription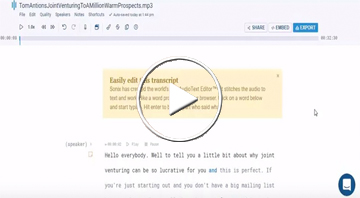 Tired of paying through-the-roof prices for transcribers?
When I first heard about Sonix, I thought I was dreaming: only $5 for a recorded hour. My mentor, Tom Antion, thought he was dreaming too because, for years, he's been looking for a workaround to the expensive $30-an-hour transcribers. He has hundreds of old audios and videos that he can transcribe, update and turn into products and blog posts.
I do too. Here's how I'm using the service:
–My transcripts will be inserted into the "Description" on topic-related YouTube videos to pull more traffic. YouTube gives us about 2,000 characters for each description, but I seldom have time to write that much copy So I'm often tempted to write only a quick sentence or two. Longer descriptions mean more keyword phrases that Google can find and use to pull traffic to my videos.
–To create blog posts. I have a 90-minute webinar on the difference between a book blurb, a testimonial, and a review. I'm using this service to transcribe the recording. I'll divide it into three separate blog posts and use a free stock photo service for the images. It's an easy way to publish content when I'm on vacation or too busy to write from scratch.
–To offer the PDF transcript as a bonus along with training videos I sell in my store.
In the video above, Tom raves about the speed and accuracy of this service. It transcribed his first 30-minute recording in only five minutes and sent him an email that explained most of his copy had a 93 percent accuracy rating.
To do: Watch the video and try Sonix. You get your first 30 minutes for free when you use his link. If you decide to buy the service, you get an extra 100 minutes free. If you like this tip, you'll love Screw the Commute, Tom's closed Facebook membership group where I've been hanging out for more than a year. He and other members post killer tips like this one on how to save time and money working from home. I can't share a small fraction of what I learn there, but Tom gave me permission to tell you about Sonix. Learn more about "Screw the Commute" and how you can join us for only $1 for a 7-day trial membership using this affiliate link.
2. Why Indie Bookstores Are Growing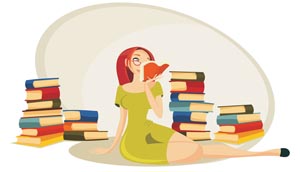 From 2009 until today, the number of indie bookstores has increased by almost 40 percent. Many have not only survived Amazon, the Goliath of all retailers, but many are actually thriving.
Two recent segments on NPR explained that the one thing indie bookstores can do well that Amazon can't do at all is offer a personal experience for the shopper.
At your local bookstore, you can meet other readers, sip your latte and snuggle up with a book in a squishy chair. You can even pet the resident cat.
As Amazon has killed off several of the big brick-and-mortar chains, indie bookstores have quietly slipped in to fill the void. Today, there are more than 2,321 independent bookstores in the U.S., a 40 percent increase from 2009. Many of them LOVE stocking books from independent (self-published) authors.
Amy Collins, a former book distributor, has a relationship with 1,000 of those stores. All of them have told her they want her to email them recommendations for books she thinks they should carry. And because she has worked as a book distributor, she knows the types of books they want.
I'm partnering with Amy to offer a service that will get information about your book in front of more than 1,000 indie bookstores throughout the United States.
But she won't take just any book. Your cover can't look homemade. And the title must be appropriate for the genre. No poor-quality printing or spines that look like they're ready to fall apart. Your book must be available through a wholesaler.
Amy is compiling a list of titles to present to book buyers in June and she has a few spots left. After the first email, her staff follows up as many s six times with each bookstore.
If you have a small or major publisher, you can take advantage of this paid service, too. Learn more by clicking on this affiliate link and watching the short video Amy created that explains about the program.
#BookMarketing #Bookstores
3. How to Strut Your Stuff as an Expert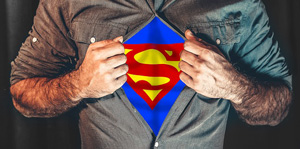 In today's cut-throat competitive marketplace, you need every advantage to convince people they should spend their time and money with you, and not your competitors.
One of the best ways to do that is by becoming an expert in one or more topics that tie into your product or service and then promoting that expertise everywhere. This is particularly difficult for authors because they think that to be an expert, they have to know more about a topic than anyone else. Not so.
The expertise ladder has several rungs. Here's how I define them, from bottom to top:
Perceived authority
Teacher/Educator
Star in a niche or industry
Counselor/Mentor
Influencer/Thought Leader
You'll be happy to hear that promoting your expertise isn't nearly as difficult as acquiring it or climbing to the next level. Many of my ideas are simple to implement, regardless of whether you've written a book.
Refer to yourself as an expert in your 15-second elevator pitch, your marketing materials and on the homepage of your website.
To do: Read about 13 other ways in my article "How to Become an Author Expert and Strut Your Stuff." In the comments, tell us what you've written and what you've done to become an expert. Or ask me a question and I'll answer it.
#Expertise #ThoughtLeader
4. Hound Video of the Week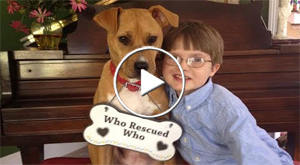 A Dekalb County, Ga., animal control officer found Xena, a malnourished and abused pit bull puppy several years ago. The dog was paired with 8-year-old Jonny, who is autistic. What a wonderful and happy story this has turned out to be for both Xena and Jonny's family. Thanks to Publicity Hound Tracey Bennett of Hawaii for this one.