Issue #994 Feb. 13, 2016
Publisher: Joan Stewart
"Tips, Tricks and Tools for Free Publicity"
In This Issue
Dems Like Weed, GOPs Like Guns
Use Periscope for Live Streaming
Today's Newsroom for Millennials
Hound Video of the Week
This Weekend in the Hound House:

I'm dealing with a furnace, circa 1987, that decided to call it quits yesterday. It figures. Low temps this weekend in Wisconsin are in the single digits. How about giving me a little love this Valentine's Day weekend and helping me pay for my furnace? Use the coupon code VALENTINES50 and grab any products in my store at half off, through Monday at midnight. 
1. Dems Like Weed, GOPs Like Guns 
If you want to romance a Democrat, nothing says "I love you" more than a dime bag of weed and a venti vanilla latte.
The fastest way into the heart of a Republican is a semi-automatic and sex on the beach.
So says a fun infographic from Clover, a dating app that created a "4-Step Guide to Getting Lucky on Valentine's Day for Democrats & Republicans." It's based on data collected from 700,000 Clover users, ages 18-65.
The promotion is brilliant because:
Valentine's Day is tomorrow. Perfect timing.
Interest in the presidential election is peaking.
It's funny. And it begs to be shared.
To do: Find a way to tie your expertise into the presidential primaries. My friend Sandy Dumont, The Image Architect, has been critiquing the clothing of a presidential candidate in each issue of her email newsletter and using side-by-side shots–one that makes the candidate look dowdy and one that looks flattering.
2. Twitter, Facebook, Instagram Hashtags

Periscope is the easiest way to broadcast live video from your phone, enabling you to share what's happening around you — with the whole world or just a few friends — as it happens.
When Roshanda Platt started playing with it last year, her first show was taking people on a tour of her refrigerator. She promoted the video on Twitter and her other social media accounts.
To her amazement, more than 100 people who also had downloaded Periscope watched.
In a guest post at my blog, Roshanda explains how she lets her personality show through in her Periscope videos--and it sure does! I followed up yesterday with a list of 23 ideas on how authors, speakers and experts can use Periscope for publicity, PR and Promotion. 
To do: Decide if this app is for you and think of ways to monetize it.
3. Today's Newsroom for Millennials
No annual performance reviews at digital publications that are hoping to attract and keep millennial journalists. They're moving toward quarterly reviews with constant feedback inbetween.
At Daily Dot, where the average employee is 31, peer-led teaching is a hallmark of the organization's regular department meetings.
At Bustle, where the majority of its staff is under 34, employees have assigned seats but are welcome to work in open spaces.
Business Insider has an unlimited vacation policy.
Today's millennials have different expectations of work than the crop of journalists back in the days of Woodward and Bernstein.
To do: Read the article "How digital newsrooms have adapted to millennials" so you can understand what makes them tick and what they like and don't like on the job. When meeting journalists of any age, ask, "What do you like most and least about your job?" Their answers could provide valuable clues that will help you help them.
4. Hound Video of the Week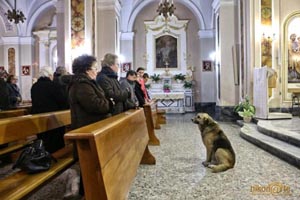 Tommy, a 7-year-old German Shepherd living in Italy, accompanied the woman who adopted him on errands and to Mass every day. CNN carried this heart-warming a story of what happened when his owner died.