Issue #1136 June 27, 2017
Publisher: Joan Stewart
"Tips, Tricks and Tools for Free Publicity"
In This Issue
Book Giveaways Lead to Bulk Orders
Publicity Opp 365 Days a Year
Leave the Turkey Sweater at Home
Hound Video of the Week
This Week in the Hound House:

I'm scouring the newspapers and local calendars for notices of fireworks displays. I've already seen one, a full week and a half before July 4th. I'll take a pass on the parades, however, which are popping up in nearby towns well before Independence Day. Just give me the red, white and boom.
1. Book Giveaways Lead to Bulk Orders
When client Kathleen Watson asked me whether she should give away a lot of books as a way to market them, I told her to proceed with caution and be picky about who gets freebies. Otherwise, she can rack up a huge printing expense that eats into her profit margin.
I was delighted when Kathleen, author of "Grammar for People Who Hate Rules," emailed me yesterday to tell me about two smart ways she attracts bulk sales.
First, she gives books to her dentist, financial adviser, hairdresser and other service providers where people have to wait in a lobby and need something to read. A patient who found her book in the dentist's office called and ordered six books to give to friends and relatives.
Second, she sent the book unsolicited, with a short cover letter, to Epic, the medical software company located in Verona, Wisconsin, near where she lives. They employ 8,000 people in offices worldwide. Many of them visit the Wisconsin headquarters for training. She suggested Epic give her book as a gift that will help employees better communicate with their English- or non-English-speaking colleagues and clients.
The company placed two orders for 100 books each in the last few months.
Kathleen has a few other brilliant marketing tricks to pull people to her events and sell more books.
To do: Read "Give Away Books to Attract Bulk Orders, But Have a Plan."
#authormarketing #giveaways #bulksales
2. Publicity Opp 365 Days a Year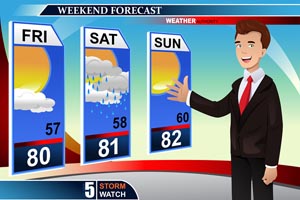 It's the publicity opportunity that never disappears.It's the publicity opportunity that never disappears.
Commenting on how the weather affects your business or nonprofit ranks right up there as one of the easiest ways to promote yourself. That's because it's an evergreen story. The weather happens every day. And it make colorful visuals for TV and print media. Three ideas:
Journalists, especially those who work for TV stations, love reporting on pets. Pet experts can comment on how to care for pets during extreme hot and cold weather.
During their weather reports, meteorologists sometimes have 15 seconds to slip in a short story of how that day's weather affected a local company.
If you sell a product that's in demand during bad weather, such as air conditioners during a heat wave, let the media know as soon as the product is in stock. The free publicity could send customers to your door. 
To do: Read lots more weather-related story ideas in the article I wrote for Entrepreneur.com under the headline "An Easy Way to Get Publicity: Talk About the Weather."
#WeatherStories #Weather
3. Add Images to LinkedIn Comments
I'll be in a TV studio tomorrow afternoon, presenting a live streaming "Lunch & Learn" publicity training session to members of Florida REALTORS®​​​​​​​.
While brushing up on tips on how to look my best, I found a handy cheat sheet you'll like. It's courtesy of Torrance, Calif., and it was created for people who appear on the city's cable TV channel.
Don't wear black. Don't wear white. Don't wear clothing with a pattern that can be seen from 10 feet away. No frosted eye shadow. No shiny scarves.
And I love this one: "Do not wear anything loud; for instance, a sweater with a large turkey embroidered on it."
To do: Read the other tips here. Then watch the short video above for one of my best tips if you're making a TV appearance or speaking to a group, especially during the hot summer months. If you have your own tip, share it in the YouTube comments section under the video.
4. Hound Video of the Week
You'll have to endure a short commercial, but it's worth it. You get to see a litter of eight Corgi pups learning how to walk and balance a big-dog body on short, little legs.