Issue #1158 Sept. 19, 2017
Publisher: Joan Stewart
"Tips, Tricks and Tools for Free Publicity"
In This Issue
Beware of Email Sent on Your Behalf
Facebook Adds Events Tab
Radio Interview Tip
Hound Video of the Week
This Week in the Hound House:

By now, all my garden friends are sick of their gardens. Not me. I'm basking in the glory of my showy dahlias. The beauty on the right, with pink and white blooms 7 inches wide, is a full 7 feet tall! It will continue to bloom until the first frost. Then I'll dig up the bulbs, store them in the basement, and replant them in the spring.
1. Beware of Email Sent on Your Behalf
Here's a form of bad publicity I'll bet you've never considered. It's an email sent on your behalf by your publicist, your publisher or someone in your company.
It can include misspellings, bad grammar, inaccurate information or the wrong "tone." And it can damage your reputation among people who already know, like and trust you.
Yesterday, I received an email from an author who apologized for a sloppy promotional message sent by his publishing company.
"It had not been proofed by me (or anybody else) before it was delivered to the email system. While the email was incorrect and an embarrassment, it does not invalidate the promotional offer…."
I was unaware of the original message until this apology. The author deserves credit for sending it and for including the name of his publishing company. I'm not identifying either one of them. This isn't the first time I've seen this problem.
To do: Never let this happen to you. Insist that you read, and have the right to edit, the final version of any email written by someone else before it's sent on your behalf. Hire a proofreader to catch anything you've missed. Email can be the Number One most valuable marketing tool in your arsenal. Access my free video training on "How to Use Email to Attract Fans, Create SuperFans & Sell More Books."
#EmailMarketing #proofreading
2. Facebook Adds Events Tab

Facebook is experimenting with a new "Events" tab, part of the company's effort to encourage people to become more involved in their communities.
The Events icon, the second from the right on this screenshot, has been added to the toolbar. If you don't see it, it's because the option appears to be in fairly limited testing right now.
To do: Read about Facebook's four other updates and tests in Andrew Hutchinson's article "5 New Facebook Updates and Tests Spotted This Week."
#Facebook #FacebookTips
3. Radio Interview Tip
The next time you do a radio interview, ask this question at the end of the interview, right before you leave:
"Do you know anyone else in radio who would be interested in interviewing me?"
Radio people travel in the same circles. They might know of another talk show host in a non-competing market who would love to share your knowledge, humor or expertise with their audience.
To do: Don't forget to take food to the station. A dozen bagels and cream cheese makes you memorable! And send a handwritten thank-you note to your host afterward.
#RadioInterview #RadioPublicity
4. Hound Video of the Week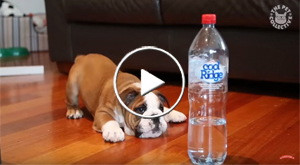 From puppies playing in a fountain, to dogs barking at water bottles, these pets are hysterical. Save this for when you're having a rotten day.