Issue #1058 Sept. 24, 2016
Publisher: Joan Stewart
"Tips, Tricks and Tools for Free Publicity"
In This Issue
Beware: Facebook Scams
Easy Ways to Cross-promote
6 Tools for Creating GIFs
Hound Video of the Week
This Weekend in the Hound House:

It's supposed to rain all weekend, perfect for a cut-throat 500 Rummy Marathon with my friend, Ann. For almost 20 years, we've joked about buying a "crown" for whoever wins the best 2 out of 3 games. For grins, I bought a $9 rhinestone crystal tiara. If I win, I'll be one proud pooch in the photo that I share with you here on Tuesday. Keep your paws crossed for me…
1. Beware: Facebook Scams


Two Facebook scams are back.
If you're drooling over that iPhone 7 and hoping to win one on a Facebook iPhone giveaway page, beware.
Many of those pages are "like-farming" scams. Someone creates a fake page and tries to collect as many likes as possible quickly. Once the page accumulates about a half million likes, the scammer can sell it to a shady marketer who wants an already-established Facebook page to promote any sleazy product or service to you.
Sometimes these scams are easy to spot, sometimes not. Kim Komando, aka "America's Digital Goddess," has captured screenshots of real and fake iPhone giveaway offers. See if you can spot the fakes. Go to "Facebook scam! Don't click "Like" again until you've read this."
In Scam Number 2, beware of free "federal grants" that your friends or family members tell you about on Facebook. It might be someone posing as your best friend or Uncle Sam. Or someone might perpetrate the scam and pretend to be you. TJ Letourneau who works for Vipre, the antivirus program I use, explained how this work in the article "A New Facebook Scam is Making the Rounds."
To do: Whenever you see something that's too good to be true, it usually is. Before you fall for it, Google "Facebook scam" and see what you can find. By the way, alerting your own followers to scams within your industry will help establish you as an expert in your field. #facebookscam #iphone7scam #iphonescam
2. Easy Ways to Cross-promote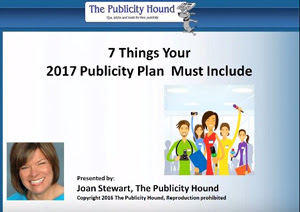 Every time you create your own media outlet like a YouTube channel or a podcast, cross-promote it.
Link to your Amazon page from your blog and website.
Publishing a YouTube video? Write a blog post about it and embed the snippet of YouTube code right into the blog.
From your video descriptions on YouTube, don't miss the chance to link to things like your Facebook page, Amazon page, Pinterest board, etc. Don't go hog-wild with links. Lead viewers to other logical places where they can find related material. No more than four links in a long description.
Publish your blog post to your LinkedIn profile. Testing by numerous Internet marketers has shown that, so far, this presents no known problems with duplicate content. In the LinkedIn version, include a link back to the original blog post with a note saying it appeared there first.
Creating your own media outlets and cross-promoting them was one of the "7 Things Your 2017 Publicity Plan Must Include." I offered the free training on Thursday. The video also explains how you can get a $100 coupon to be used for any of my training tools at my website. And you'll love the super tip on how to grab people's attention on Facebook. Most people don't know about this. #mediaplan #publicityplan #crosspromote #contentcreation
3. 6 Tools for Creating GIFs

When you need to create offbeat content, consider a GIF, an animated silent loop that's pieced together from a series of photos or video frames. You see them everywhere on Facebook, Buzzfeed and other sites. Here's a sample of GIFs on Tumblr.
Anna Jasinski of PR Newswire says they're one of the hottest content formats now because they're so quick to digest.
"GIFs make for great short-form storytelling — especially in an attention economy, where audiences crave imagery and other snackable bites of information," she says.
To do: Read about her recommendations for "6 Simple Tools for Creating GIFs to Enhance Your Storytelling." The first one at GIFs.com even lets you make GIFs of your live streams from Facebook Live, Twitch, Periscope and more. #gifs #storytelling
4. Hound Video of the Week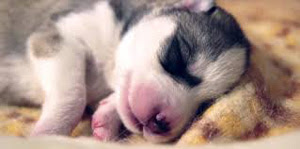 Almost four minutes of adorable Husky puppies licking, eating, snoozing, biting, scratching, wobbling and destroying stuff, to the tune of "We Will Rock You."