Issue #1094 Jan. 28, 2017
Publisher: Joan Stewart
"Tips, Tricks and Tools for Free Publicity"
In This Issue
Best Free Media Directory
Follow Me at Sea
Easier Posting to Instagram
Hound Video of the Week
This Weekend at Sea:

It's Day 8 on the Publishing at Sea cruise in the eastern Caribbean. We had a super successful book signing yesterday for our authors on the Promenade, and even Captain Tony came to see what all the excitement was about. We sold 87 books, and our authors will be back at it again today. We head for home tomorrow.
1. Best Free Media Directory

At 8 this morning, I'm presenting a session on the seven most important components authors must include in a publicity campaign this year.
I'll be showing a short video on USNPL, the best free media database that has all kinds of bells and whistles that help you reach media people quickly.
I've written about it here before and I want to remind you that you have it at your fingertips. It helps you find contact information and, in some cases, direct links where you can upload press releases.
To do: Watch the same short YouTube video I'll be showing today when I teach on the ship, and read about my 7 Ways to Use the Best Free Media Database for Publicity.
​​​​​​​#mediadirectory #freemediadiretory
2. Follow Me at Sea
I've been blogging all week about life at sea as well as some of the fun stuff we've been doing on the shore excursions. Several of us are foodies, and we loved a West Indian cooking class yesterday and a walking Food & Culture Tour of Old San Juan.
I'm also excerpting tips from each of our training sessions. We've already booked the Publishing at Sea cruise for next year and we're almost three-quarters full because many of this year's authors are returning next year.
Will you join us?
To do: Read my blog to see what we've been up to.
#publishingatsea #bookmarketing
3. Easier Posting to Instagram

If you post to Instagram, you might be one of the social media addicts who's frustrated that you can't post images from the desktop version.
The abysmal desktop interface is pathetic compared to the Instagram mobile app. Help is on the way.
Christine Buffaloe, my virtual assistant, says she loves Gramblr after reading about it in a Social Media Today article.
She says it eliminates tedious steps needed to post photos.
To do: Read "Here's How You Can Post To Instagram From Your Computer." If you have a favorite tool that saves you time or money, let me know. I'll thank you publicly, and my Hounds will thank you too.
#grambler #instagramfail
4. Hound Video of the Week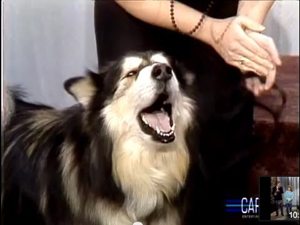 It's the singing Dog Contest on Johnny Carson's Tonight Show in 1987.​​​​​​​