Issue #1244 July 28, 2018
Publisher: Joan Stewart
"Tips, Tricks and Tools for Free Publicity"
In This Issue
Ban the Sound Bites
Another Heat-related Story Idea
More Really Bad PR Pitches
Hound Video of the Week
This Weekend in the Hound House:

We're seeing 7th heaven, a Chicago-based rock band, one of my favorites. The best part of the show is "30 Songs in 30 Minutes," a medley of oldies. Behind the band, on a giant screen, you can see videos of the singers or groups that made each song famous, singing in unison with the guys on stage. Watch a YouTube clip of "30 Songs" here. But first, move the furniture. You'll want to jump up and dance.
1. Ban the Sound Bites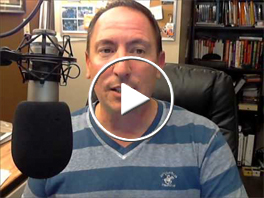 My friend Wayne Kelly, a media coach and morning radio host in Canada, says it's time to put sound bites to bed.
That means you don't have to beat yourself up because you can't think of a clever, witty phrase with alliteration or one that rhymes.
"It's impossible for you to create the perfect sound bite," he says. "It's more about me finding that perfect sound bite from you. Your job is to get on the show, do a great interview, educate, entertain and deliver great content."
Too many guests, he says, are obsessed with sound bites and end up spouting clever phrases but little else.
Want an example of the perfect guest?
It's Ralph Peterson, who was on Wayne's show this week to explain how he went from 350 pounds to 200 pounds and was able to run 45 marathons. He was there to promote his book, "Adventures in Dietland–How to Win at the Game of Dieting from a Former Fat Guy."
"I usually avoid weight loss or diet books," Wayne said. "But this one was about a man who knew the diet struggle. He was very relatable and honest. I felt like it was two guys just sharing a story that anyone could do. He wasn't selling us. He was sharing what worked for him."
To do: Watch Wayne's short video above where he talks more about the segment. Then listen to the interview here.  If you're an author and need Wayne's help on how to create a perfect pitch for radio so you can get booked on dozens of shows across the U.S. and Canada, invest in his "Book Hook Strategy Session" which includes a 30-minute private phone call, two "book hooks" he will create for you and his advice on which types of radio stations to contact. Read more about "The Radio Publicity 'Book Hook' Strategy with Wayne Kelly."
2. Another Heat-related Story Idea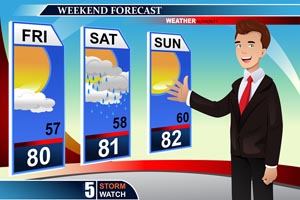 Here's another tip from Wayne Kelly, the morning radio host who read my heat-related story ideas in Tuesday's issue and wrote this:
"You know what blew up my phones this week on the air? How I'm always comfy at around 70-72 degrees and my wife and female co-workers are always FREEZING.
"Then I had a ton of calls saying it was the opposite in their homes…the man was cold and the woman was hot. And don't even get the pregnant people started – they could care less how much it costs – they want it at 65!!!
"Another hot topic – how much is your electrical bill? Great for heating A/C companies to share the most efficient way to keep the house cool."
Love these ideas, Wayne.
To do: Think of how your life is affected by the weather and start pitching. This is one of the easiest ways to get on radio and TV, especially if you have a visual. Consider pitching your TV station's meteorologist.
3. More Really Bad PR Pitches

Every day, journalists use Twitter to share a smattering of hysterical and horrifying PR pitches that land in their inboxes. Like these:
From Stephen Shankland:
"Thinking about changing my Twitter name to %%FirstName%% %%LastName%% in honor of badly mail-merged PR pitches."
From Ry Crist:
"Got a PR pitch for wine this afternoon that has nothing to do with anything I've ever written and has zero news hook. It's literally just an ad for wine. Holding out for the follow-up cheese pitch."
From Jen A. Miller:
"Gather round kids, I am waiting for a call to start, so I'm going talk about why I pass on PR pitches, in part because I've gotten some snippy replies when passing i.e. 'but I think this is perfect for you why'd you say no?!'"
If a journalist rejects your pitch, do not–I repeat DO NOT–follow up and ask her to explain why.
To do: Read more blunders in "This month in bad PR pitches" at the MuckRack blog.
4. Hound Video of the Week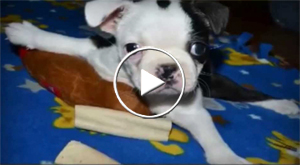 Meet a Boston Terrier puppy that suffers from "Swimmer Puppy Syndrome," the inability to stand, sit or walk. You'll be cheering this little dog right through to the surprise ending.