Issue #1294 Jan. 29, 2019
Publisher: Joan Stewart
"Tips, Tricks and Tools for Free Publicity"
In This Issue
Alternatives to Dying Dailies
Contact Info for Top Radio Shows
Speed Bumps That Hurt Your Writing
Hound Video of the Week
This Week in the Hound House:

Of all the days to do something stupid! I accidentally left my computer bag in my car yesterday in this sub-zero deep freeze. This morning, I wrapped it in a blanket and placed it near one of the floor vents to defrost. I did this several years ago and the computer survived. It's still ticking, and it looks like nothing has been damaged. Still, I feel like I'm pushing my luck. Did you ever do anything like this?
1. Alternatives to Dying Dailies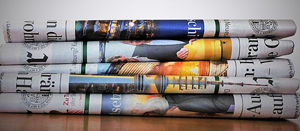 Gannett, the media giant that owns USA Today and many metro newspapers, continues to gut and quarter the news staffs at most of its daily newspapers.
Digital First Media, which wants to buy Gannett, already has decimated some of the dailies it has swallowed. If your daily is a shell of its former self, here are five alternatives:
Weekly newspapers. Local news is its bread and butter. Read about how an interior designer in North Carolina gets one publicity hit after another in her local bi-weekly. See "Brand Your Small Business with a Gusher of Local Publicity."
Campus media. Can you spin your story or advice to appeal to students and pitch to the campus newspaper, or TV or radio stations?
Neighborhood discussion boards. I've written about NextDoor.com. Facebook also has thousands of Groups devoted to local communities.
Alternative weeklies. These art hurting too. But can you give your story a twist that would appeal to mostly liberal audiences?
Business journals. Give your story a business hook and pitch it to a local paper in the American Cities Business Journals or Crains chains.
To do: This list could go on forever. In my ebook "How to be a Kick-butt Publicity Hound," you'll find hundreds more ideas, many you haven't considered, on how to self-promote online and offline. See what it includes.
#DailyNewspapers #LocalPublicity
2. Contact Info for Top Radio Shows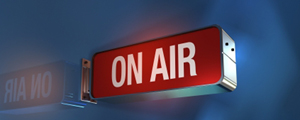 While newspaper readership dwindles, talk radio continues to be blazing hot.
It's a perfect place for authors, speakers or experts to comment or offer advice on breaking news, especially a controversial topic.
If you want to be booked as a guest, I have a free tool you'll love. It's Steve Harrison's PDF report on the "Top 25 National Radio Shows That Interview Guests." And it's complete with phone numbers and email addresses for the guest bookers and producers.
As a special bonus, you'll also get a super-simple fill-in-the-blank exercise that will help you create a "hook" so you aren't making it sound like you're after a free commercial for your book or product.
Read the report and let me know what you think. But most importantly, use it!
To do: Download it using this affiliate link.
3. Speed Bumps That Hurt Your Writing

When I work with clients to help them become prolific writers, I teach them how to avoid using roadblocks that stop readers in their tracks. For example:
–e.g. It's the abbreviation for the Latin phrase exempli gratia which means "for example." Why not just say "for example"?
–et al. It's an abbreviation for et alia (neuter plural) which means "and others." It indicates that two or more other authors collaborated in the work. But writers use it like this: "Some of our best presidents were Abraham Lincoln, George Washington, Franklin Roosevelt, et al."
–Long parenthetical phrases in the middle of a sentence. "I live in Wisconsin (home of the world champion Green Bay Packers, bratwurst and the world's best frozen custard), and on days like today when I can't start my car, I ask myself why I'm still here."
–Foreign phrases, usually French or Latin, that pompous writers use to sound intelligent. They include bon mot (a clever remark), enfant terrible (a difficult child), and persona non grata (Latin for unacceptable or unwelcome).
To do: When writing, resist the urge to sound highfalutin. If you've written a guest blog post or article you want to pitch, let me review it first. I'll suggest ways you can strengthen it. That's one way to take advantage of my Rent My Brain consulting sessions. I use GotoMeeting which means you can watch your computer monitor or device and see me edit your copy. Reserve your time here. 
#WritingTips #GoodWriting
4. Hound Video of the Week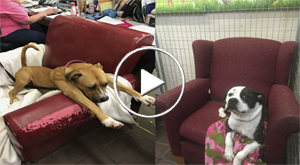 Shelter dogs in Illinois get their very own armchairs so they can stay cozy until they find their forever homes. Thanks to Publicity Hound Tracy Bennett of Honolulu for this one.