Issue #1205 March 13, 2018
Publisher: Joan Stewart
"Tips, Tricks and Tools for Free Publicity"
In This Issue
A Must for Media Interviews
Sell Your Book to 4,000 Libraries
Tips for Vertical Videos
Hound Video of the Week
This Week in the Hound House:

I loved the DVD Moonlight, last year's Best Picture, that I found at my library. But "Thoroughbreds," a teen thriller we saw over the weekend, not so much. Rotten Tomatoes, the movie review aggregation website, gave it a generous 86 percent and a "fresh" rating. Save your money and wait for it on Netflix.
1. A Must for Media Interviews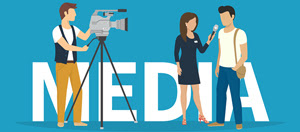 During a Rent My Brain session yesterday with a client who has an interview with a local TV station, we worked on his key message.
That's the most important thing he will say during the interview. Never go into an interview without crafting your key message.  
Why?
Because the reporter might not ask you a question that leads to it. You must know how to weave your key message into your interview not once, but several times. You can do that by "flagging" the reporter with statements like these:
–"The most important thing people should remember is (key message)…"
–"The most frequent question people ask me is (insert question). And I tell them (key message)."
–"If I had only one recommendation for people, it would be (key message)…"
We also created his three sub-messages which he will also weave into his answers. I told him about bridging statements, too, a way to segue from a question you don't want to answer to your key message.
To do: Prepare for your next interview by reading my "12 bridging statements to use in tough media interviews" at my blog.
#MediaCrisis #MediaInterviews
2. Sell Your Book to 4,000 Libraries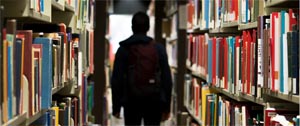 This month and next, libraries are getting money to buy new books.
Don't be like many authors who poo-poo libraries "because I'd rather sell my books instead of letting thousands of people read them for free."
That's so short-sighted!
Selling to libraries is a lucrative way to move lots of books quickly. It's also the first step to getting invited to speak at a library where you can also sell books. Here's the best part. Librarians are master marketers. If they invite you to an author event, they'll do almost all the marketing for you because they have strong relationships with local media, and they're a whiz at social media.
Amy Collins of New Shelves has a list of 4,000 libraries throughout the United States that have asked her to let them know about books she recommends they buy. Will your book be among them?
Today through Wednesday, March 21, Amy is giving 24 authors the opportunity to be on her list of "recommended books." She will email your book cover and sales copy to her golden list of contacts, and even do the critical follow-up. This program is ideal for fiction and nonfiction authors in any genre. But it isn't for coloring books or journals people write in because libraries don't buy those.
To do: See the seven reasons to sell books to libraries in my article "How to Encourage 4,000 Libraries to Buy Your Book." Or, if you're pressed for time, go directly to the page where you can get all the details on how to be among the 24 authors who will be chosen for this promotion. Click this affiliate link. 
#SelltoLibraries #AuthorMarketing
3. Tips for Vertical Videos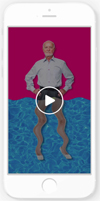 Creating vertical videos used to be a no-no because the viewer would see giant blocks of black on each side of the video.
But users are warming to vertical videos. Snapchat leads the way with its vertical format. Facebook now has vertical presentation tools. YouTube is enhancing its vertical presentations. And Instagram's Stories format now has more than 300 million daily users, many of whom are becoming more accustomed to vertical presentation.
Instagram has published a new set of tips to help you make better use of vertical video. One way is to split your screen.
"Whether you're creating a grid to show different angles of a product or splitting the screen to tell two separate, yet connected stories at once, vertical video is a great way to create content in a fresh, immersive way. By dividing up the space, you're able to create new perspectives for your viewers to engage with, while guiding their attention to the most important parts of your video."
To do: See "Instagram Creators Presents: Reframing Creativity with Vertical Video format." 
#VerticalVideo #Instagram
4. Hound Video of the Week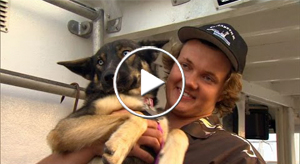 Luna, the world's luckiest German Shepherd, fell off a boat, was lost at sea and given up for dead. But she swam two miles to an island and survived for five weeks on mice before being rescued. You'll love the heart-warming reunion with her owner.