Issue #938 Aug. 1, 2015
Publisher: Joan Stewart
"Tips, Tricks and Tools for Free Publicity"
In This Issue
A Formula for HARO Pitches
#BacktoSchool Publicity Ideas
Jewish Book Fairs & Festivals
Hound Video of the Week
This Weekend in the Hound House:

I keep hoping the Canada geese are gone from the lakeshore park where I have to watch where I walk each morning. What a mess! The park needs the Goosinator, an orange robot with crazed yellow eyes that the city of Denver uses to chase birds from its parks. With my luck, the geese would retreat to my backyard.
1. A Formula for HARO Pitches
If you get hundreds of free media leads five days a week from HARO, short for Help a Reporter Out, but your replies to journalists are falling flat, consider this easy formula suggested by Peter Shankman, who founded the service:
a. My name is X, and I do Y. I'm responding to your HARO query on Z.
b. I know A, B, and C, and have done Q, R, and S for several years, including T and U. I'm happy to chat further and offer several anecdotes from my experience.
c. I can be reached at ###, or via email at @@@. Reach out anytime.
Easy enough. Journalists who work for top-tier media like FOX, Gannett, DowJones and the Associated Press don't have time to reach much more than that.
Journalist Russell Working, who has been on the receiving end of hundreds of awful HARO replies, has written about 11 ways to craft better HARO and ProfNet pitches.
And what if journalists cover you and ask for your media kit? If you're an author, join me on Monday, Aug. 3, for a free webinar with Joel Friedlander on "The Indie Author's Guide to Creating a Killer Media Kit." Register here.
2. #BacktoSchool Publicity Ideas
#BacktoSchool was trending this week on Twitter, a perfect reminder for you to tie into this topic in your media pitches, blog posts, videos, infographics and other content.
I did a hashtag search and found people tweeting about: How to avoid harmful chemicals in school supplies. How backpacks are the new fashion accessory for adults. Apps for staying organized. Ideas for lunches kids will eat. Keeping condoms in college dorm rooms.
Also: How to find money-saving coupons for school supplies. Shopping on mobile phones. Furnishing college dorm rooms with Goodwill finds. Posters for classrooms. Profiles of unusual teachers.     
Refer to the infographic on the Top 10 Trends for Back-to-School and College 2016. Stats round out a pitch and give your story perspective.
Use my Simple 5-Part Formula for Delivering the Perfect Media Pitch and Hitting it Out of the Park. Publicity Hound Mary Castillo followed my tips and, within 15 minutes, had two confirmations from reporters who were running her story, and response from a radio show where she'd been trying to place her client for more than a year. The video replay is available in my store.
3. Jewish Book Fairs & Festivals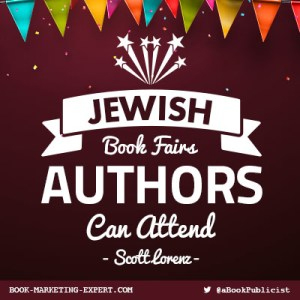 If you're a Jewish author or write about Jewish issues, add Jewish book fairs and festivals to your marketing toolbox.
Dr. Jerry Altman, who has published the second edition of the children's book "Don't Stick Sticks Up Your Nose & Stuff Stuff in Your Ears," has just started attending Jewish Book Fairs, especially appropriate since his book includes cultural references for Jewish children that will keep them from "misplacing" dreidels and shofars.
"I contacted a large book fair in San Diego. Because I said that my family and I have been going to San Diego, Carlsbad and Laguna for the last 16 years, I will be in the local author area and given my table for signings, since my contact loved the book," he said.
See book publicist Scott Lorenzo's list of Jewish Book Fairs and Festivals.
4. Hound Video of the Week
Thanks to Publicity Hound BL Ochman of New York City for introducing you and me to Doug the Pug and his many personas. He has his own store and his own Facebook Page.