Issue #1000 March 5, 2016
Publisher: Joan Stewart
"Tips, Tricks and Tools for Free Publicity"
In This Issue
9 Insider Strategies for Publicity
Easy Headline Tool
19 Topic Ideas for Authors
Hound Video of the Week
This Weekend in the Hound House:

I'm baking an apple pie this morning to take to my friend's house this afternoon.  We're hunkering down and watching "Spotlight," which won Oscars for Best Movie and Best Director. It's the true story of how the Boston Globe uncovered the massive scandal of child molestation and cover-up within the local Catholic Archdiocese.
1. 9 Insider Strategies for Publicity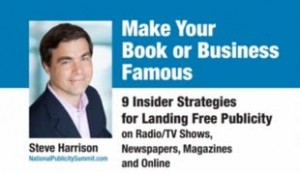 Most authors, speakers and entrepreneurs make a big mistake when approaching the media. They lead with what they are promoting rather than an IDEA for a show or story.
They essentially say to the decision maker, "I have a new book and you should interview me." Or, "My product is amazing, you should write about it."
That pitch lands with a thud. So what does work?
"Make Your Book or Business Famous: 9 Insider Strategies for Landing Free Publicity on Radio/TV Shows, Newspapers, Magazines and Online," a free, 29-page download from Steve Harrison, includes nine how-they-got-publicity case studies. You'll learn:
How the author of a book in a crowded subject category stood out from the pack and got booked on the "Today" show.
The strategy that landed the owner of a very ordinary business–septic tank inspections–on the "CBS Evening News."
How Steve helped Robert Kiyosaki make his book "Rich Dad Poor Dad" famous.
What a "Good Morning America" producer says is the absolute best way to get booked as a guest on the show.
How a dentist piggy-backed on the presidential election to land an appearance on Fox News.
How an amateur chess champion landed a big feature in People magazine.
To do: Download the full report now (affiliate link). You'll also get information about a free teleseminar Steve is hosting on Monday, March 7, at 2 and 7 p.m. Eastern on "How to Become a Guest on Top National TV Programs."
2. Easy Headline Tool

Stuck for something to write about at your blog? Or looking for an easy tool that creates catchy headlines?
A fun, free tool does both.
Type in a topic, hit the orange "Go!" button and it will give you give five ideas. If you don't like those, click again and you'll get five more, and so on.
If you decide you love one of the topics but don't have the time or talent to write it yourself, they'll write it for you for a fee.
To do: Experiment with the tool here. Then check out a killer step-by-step guide to creating hundreds of blog post ideas.
3. 19 Topic Ideas for Authors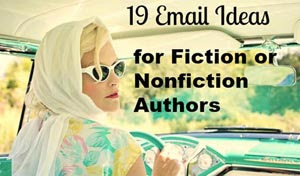 Fiction writers often struggle with what to write about at their blogs or when sending email to their email lists. That's because they concentrate too much on their books.
I came up with 19 topics, and some have nothing to do with their books. Most work just as well for non-fiction writers.
To do: Read them all at my blog. Choose an idea, and start writing.
4. Hound Video of the Week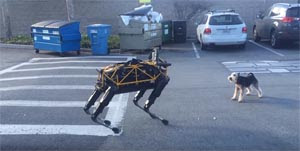 Google's robot dog meets a real dog for the first time and tries to make friends, but fails.