Issue #1083 Dec. 20, 2016
Publisher: Joan Stewart
"Tips, Tricks and Tools for Free Publicity"
In This Issue
7 Tips for Facebook Clicks
Make a Fun Holiday eCard
Still Time for Trends
Hound Video of the Week
This Week in the Hound House:

I'm spending Christmas with my family, where the Christmas tree is surrounded by a barricade made of dining room chairs laid on their sides, end-to-end, to prevent the 1-year-old twins from doing damage to themselves or to the tree. If only the nine adults could figure out a way to baby-proof our phones…
1. 7 Tips for Facebook Clicks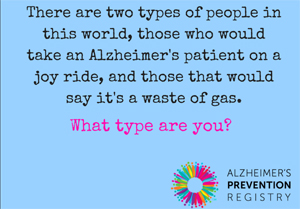 You don't need photos of cute puppies or "fake news" to force people to reply to content you share on Facebook.
Even a serious topic like Alzheimer's Disease can be given an uplifting treatment that encourages people to help spread the message.
A colorful quotation posted on March 20 by the Alzheimer's Prevention Registry asks, "There are two types of people in this world, those who would take an Alzheimer's patient on a joy ride, and those that would say it's a waste of gas. What type are you?"
So far, that post has 2,600 Likes, 1,217 Shares and 680 Comments. You can see it here.
Stephanie Wight, an account executive at GYMR Public Relations, identifies seven factors about that post that you can keep in mind the next time you're thinking about sharing content on Facebook that gets lots of clicks. The most obvious one is to ask a question that encourages people to share their answer.
To do: Read about the other factors in the "Case Study: Dissecting a Highly Engaging Facebook Post."
#facepublicityebook #socialmediamarketing
2. Make a Fun Holiday eCard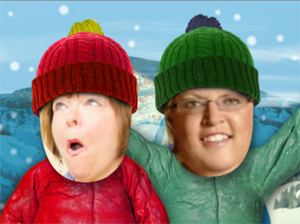 Looking for a different kind of holiday greeting for your clients and friends?
I just made this fun ecard of Christine Buffaloe, my assistant, and me, racing our sleds.
Choose from an assortment of holiday themes: Santa's TwerkShop, Feliz Navidad, Holiday Disco, Elf Fun Factory, Hawaiian Christmas, Snowball Fight, Office Party, even Chippendales! I paid $18 for an annual membership which lets me create digital cards all year. Find out what you can do with a free account. 
Thanks to Publicity Hound Michael and Roslyn Rozbruch for sending their sledding race eCard yesterday which reminded me I had to share this with you. Have fun with it. Send me the link to your video greeting. If you have a good relationship with journalists or bloggers, send it to them, too.
#ecards #holidayecards #jibjab
3. Still Time for Trends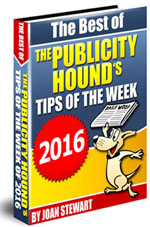 If you think you've run out of time to create an end-of-the-year report on trends you're seeing in your industry, relax.
These lists also make excellent content to share in the first quarter of 2017. Here's an example I found on "4 Trends of Grocery Marketers in 2016."
To identify trends:
Do a google search for "top (your topic) trends"
Check with your trade association.
Log into your LinkedIn account. In the search bar at the top, search for #BigIdeas2017.
Ask your audience, friends, followers and fans to identify trends they're seeing.
Once you've compiled your data, choose the 5 to 7 trends and compile them into a tips list. I show you how to do that in my "Special Report #16: How to Write Tip Sheets That Catch the Media's Attention." Get it, or as many as you wish, for half price when you use the coupon code BESTOF2016 inside my free ebook "The Best of The Publicity Hound's Tips of the Week of 2016." Download the ebook here.
#publicitytools #freeebook
4. Hound Video of the Week
Santa and his holiday hounds (and a cat or two) make toys and stuff stockings for all the good little girls and boys. And then they enjoy a feast.