Issue #1299 Mar. 5, 2019
Publisher: Joan Stewart
"Tips, Tricks and Tools for Free Publicity"
In This Issue
7 Myths of Press Releases
When It's OK to Break Grammar Rules
Today: Write a Book 5x Faster
Hound Video of the Week
This Week in the Hound House:

I'm dog sitting again this week for RJ and Stella, my brother's Miniature Dachshunds. RJ broke the squeaky noise-maker in his orange rubber toy bone which is just fine with me. In between playing fetch with it, I'm planning a program on "How to Keep a Gardening Journal" that I'll present next week when I host my garden club.
1. 7 Myths of Press Releases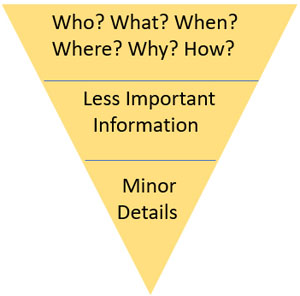 Following the inverted pyramid used to be the most important rule for writing press releases.
Two decades ago, we included the "5Ws and 1H" in the first paragraph. Then we continued writing until the least important information was at the bottom of the release.
We did this because we wrote press releases for busy journalists who didn't have time to read the entire release. On the chance they wanted to publish it as is, they could cut from the bottom without excluding vital details.
If this is how you write press releases, please stop.
You're not writing only for journalists anymore. You're writing primarily for consumers who can find your press releases online, read them and take the action you want them to take. Instead of stuffing the "5 Ws" into the first paragraph, you're using keywords that consumers use to search for the topic of your release.
You no longer have to rely on the media gatekeepers. That gives you enormous flexibility in how you write and how to catch people's attention. Telling a story, for example, is one of the best ways to write.
Tell a story about a problem you experienced that led you to create a product that's the solution. Or tell a story about the main character in your novel.
To do: Read my article "7 Myths of Using Press Releases to Promote Your Books." Each myth applies to any press release, not just those written for books. At the bottom of the article, I've linked to two more articles I wrote that will remove the confusion about when you use a press release and when you deliver a pitch.
#PressReleases #NewsReleases
2. When It's OK to Break Grammar Rules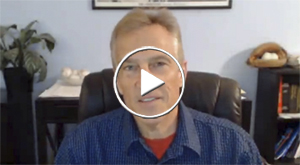 Copywriter and marketing expert Casey Demchak says that when you write marketing copy, don't concentrate on your grammar.
Your written words should sound like your authentic voice, as though readers are listening to you talk, not just reading your words. Your copy should snap, crackle and pop and move readers along quickly. Many grammar rules defeat those two goals.
Stodgy Example: "She's the most fun client with whom I can remember working."
Better: "She's the most fun client I can remember working with."
I don't care about the dangling preposition at the end. Most of our readers don't either.
To do: Read Casey's other rules that are OK to break in his article "Why It's Good to Break Grammar Rules with Your Marketing Copy." If you want a free, in-depth course on how to write sales copy, watch Tom Antion's webinar on "Copywriting 901: The Fast Track to Writing Words That Sell" using this affiliate link. Writing sales copy does NOT require writing talent because it's a very different type of writing than what you're used to. It does require discipline. I took Tom's course twice and sell way more now than I did before I didn't know what I didn't know.
3. Today: Write a Book 5x Faster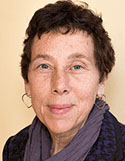 Some of my author clients spend up to four years writing a non-fiction book.
That's insane.
Usually, they are perfectionists who want to research every morsel of information before writing the first word. You can write a nonfiction book in one-fifth the time it takes most ordinary authors.
Book editor Debby Englander, who works for major publishers Macmillan and John Wiley & Sons, says there's a better way. She has been behind the curtain of 17 bestselling non-fiction books, including 10 that hit the New York Times Best Seller List.
Today, at 2 and 7 p.m. Eastern, she will be Steve Harrison's guest on a free teleseminar that will teach you "How to Write a Better Book, Faster than You Imagined and Have Much Stronger Appeal to Potential Buyers." 
You will learn:
How to save time and energy getting started, the place where many authors get stuck permanently and quit.
How to determine your publishing personality and how to use it to write 5 times faster.
4 ways to make your book more appealing to radio, TV, print media, bloggers and social media channels.
A little-known "promise" to include in your book's introduction that will help you sell more books.
How to get those coveted book endorsements from celebrities whose contact information is almost impossible to find.
To do: Register for today's free call with Debbie and Steve using this affiliate link.
#WriteFast #BookMarketing
4. Hound Video of the Week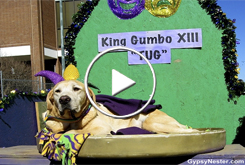 In honor of Mardi Gras day, here's a video of dogs dressed in their best boas, tutus and crazy costumes. I love the idea on how one group raises money during the parade to benefit animal shelters.