Issue #1137 July 1, 2017
Publisher: Joan Stewart
"Tips, Tricks and Tools for Free Publicity"
In This Issue
7 Facebook Headline Hacks to Steal
Why a "Nobody" Can Attract a Sponsor
Free Gift Certificate Templates
Hound Video of the Week
This Weekend in the Hound House:

I'm digging out my "to do" list for my Garden Club's Garden Walk a week from today because I'm chairing the event. We got a nice story in two local papers this week as a result of a press release I wrote. Our weekly is planning a bigger story next week, with a photo, of one of our gardeners, using an angle I suggested. When publicizing an event, always suggest two or three different angles for larger stories, depending on who you are pitching.
1. 7 Facebook Headline Hacks to Steal
Whether you're creating content for Facebook, or writing a headline for a Facebook ad, it only takes several little words strung together in your headline to stop people in their tracks and bait them into clicking.
That's a lot easier than it sounds. But if you follow seven tips from Brad Smith at the AdEspresso blog, you'll be on your way to grabbing attention in a crowded marketplace. His headline hacks include:
A short testimonial: "Yours is the only newsletter I actually read."
A numbered list: "4 traits to look for when hiring."
Negativity: "33 percent discount almost gone."
To do: Read about how these hacks increased the number of clicks, and steal his four other ideas in the article "7 Facebook headline hacks to drive clicks through the roof."
#FacebookHacks #HeadlineHacks
2. Why a "Nobody" Can Attract a Sponsor

If you're waiting until your name is in lights to attract a corporate or nonprofit sponsor, someone else will beat you to it.
Even if you're a "nobody" but you have an audience of people who are ideal candidates to buy a company's products and services, or support a nonprofit, you can go after sponsors.
Why?
Because your audience might include people who a company or nonprofit can't reach. Besides, if your followers already know, like and trust you, your endorsement is all they need.
There are 11 other reasons a "nobody" can attract a sponsor, and you'll learn them all–plus how to do it–during free training this Thursday, July 6. At 2 and 7 p.m. Eastern, Steve Harrison will interview an author/speaker who's landed sponsorships with FedEx, Bank of America, Microsoft, Walmart, Dun & Bradstreet, Wells Fargo and many other companies and organizations.
You'll learn the 14 subject categories for authors and speakers who attract sponsors, fatal mistakes to avoid when approaching sponsors, the 5 most important elements of a sponsorship proposal, and the exact amounts of money you should ask for (most people ask for too little).
If you've already tried to get a sponsor but you made one of two mistakes, the special guest will explain how to fix it and try again.
To do: Register for "The Top 5 Ways to Attract Corporate Sponsors–Even if You're Just Starting Out" using my affiliate link. 
#CorporateSponsors #GetaSponsor
3. Free Gift Certificate Templates

People love free stuff. And drastically reduced stuff.
So much, in fact, that if not for a gift certificate, 32 percent of redeemers wouldn't have gone to the store it came from and made a purchase.
If you don't have a store, you can still offer gift certificates. But how?
By using Canva's free gift certificate templates.
To do: See 20 examples, several with free templates. When you find one you like, click on "Edit this design in Canva." If you don't have a Canva account, you'll have to sign up for free. Canva is one of the best graphics tools that lets you create beautiful images with little or no artistic talent. See "Win Over Shoppers with a Charming Gift Certificate [Featuring Free Templates]." 
#GiftCertificates #GiftCard
4. Hound Video of the Week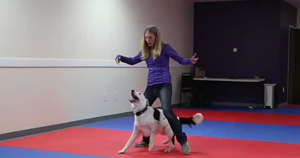 You may have seen "canine freestyles" in which owners and their dogs do freestyle routines to upbeat music. But you've never seen anything like this one.  Thanks to BL Ochman of Pawfun.com for sharing. Can you imagine how many treats the dog consumed before learning this routine?