Issue #1049 August 23, 2016
Publisher: Joan Stewart
"Tips, Tricks and Tools for Free Publicity"
In This Issue
5 Ways to Widen Your Facebook Reach
Share Your Personal Side in Emails
Where to Promote Your Expertise
Hound Video of the Week
This Week in the Hound House:

Sick Dog Update: I think I've figured out what's wrong with my dog. Bogie has a bad tooth or a problem inside her mouth. She's drooling a lot, will only eat soft food, and I saw blood on her toothbrush yesterday. The vet's office agrees with me. She's going in tomorrow for a full dental cleaning and exam. She hasn't lost any more weight, but please keep the prayers coming.
1. 5 Ways to Widen Your Facebook Reach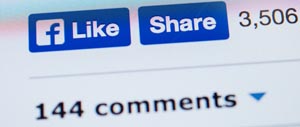 The grim news about your Facebook page is worse than ever.
Facebook is showing more funny videos and baby pictures from friends and family instead of news and other marketing content from your business.
Organic engagement–the number of people who Like, Share or Comment on your content on your business page–is estimated at a pathetic 1 percent. More engagement means more visibility in Facebook's news feed. Less engagement means you hear crickets chirping.
If you haven't given up on the world's largest social media site as a marketing tool, try Larry Kim's five tips for improving your Facebook reach. One of them, called Preferred Audience Targeting, works just like Facebook's ad targeting but for organic posts. It lets you target your updates so only the people who are most likely to be interested in your update will see it, and it's free.
"This feature is so powerful because not everyone who follows your Facebook page is going to care about every single update you publish," Larry writes. "If you want to start raising your organic engagement, you need to stop broadcasting to all of your followers and focus on those people who are most likely to engage with specific updates."
To do: Read "5 Ways to Improve Your Reach on Facebook" on the Social Media Today blog.
2. Share Your Personal Side in Email
If you're marketing with email, especially if you're sending a newsletter like this one, update readers about what's happening in your personal life.
I started doing this a few years ago at the urging of my assistant, Christine Buffaloe. "This Week in the Hound House" and "This Weekend in the Hound House" generate more comments than anything else I share. In return, you send me photos of your kids, grandkids, pets, gardens and favorite recipes. You say prayers when I ask. You send hysterical dog videos.
You hear about my problems, quirks, foibles and my little victories. You tell me about yours too.
Why is this important?
Because it encourages you to click "Reply" and build a relationship with me. It gives you time to know, like and trust me. And I learn more about you–what you like about my tips and what you think should be off limits. That feedback is like gold.
When I offered my Author Email Boot Camp training in February, many readers contacted me and asked if I'd consider offering a lighter, more budget-friendly training program on how to do email marketing. Yes, I will. Join me from 4 to 5:30 p.m. on Thursday, Aug. 25, for the free webinar "How to Use Email to Attract Fans, Create SuperFans & Sell More Books." And learn how you can take advantage of my training that's a more comfortable fit for any budget. Register for the free call here.
3. Where to Promote Your Expertise
Consumers want advice and help from experts. Journalists do too.
That's why you should become an expert in your field. Here are 7 places to promote your expertise.
In your LinkedIn headline and summary.
On the homepage of your website and the "About" page.
In your marketing materials including your business cards.
In author resource boxes at the end of articles you write.
On your social media profiles.
On nametags, like the one you see here.
In your email signature.
At the Author U Extravaganza Sept. 15-17 in Denver, the primo author event of the year, I'm presenting a session on how authors can become experts in their topics and promote it.
To do: I have a special coupon code that will save you $270 off the three-day Extravaganza registration. But you must register by Sept. 1. The discount rate for a room at the Denver Renaissance Stapleton Hotel expires tomorrow. I've summarized everything you need to know about this event at my blog. See "11 Reasons to Attend the AuthorU Extravaganza Sept. 15-17"
4. Hound Video of the Week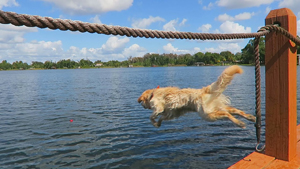 Ten minutes of watching Rolo and Cooper swim in the pool and jump off the dock. You'll want to join them. (Will the videographer's $700 camera fall into the water?)