Issue #1221 May 8, 2018
Publisher: Joan Stewart
"Tips, Tricks and Tools for Free Publicity"
In This Issue
5 Ways to Recycle Your Tweets
Meet Readers Where They Are
Wednesday: Free Publicity Training
Hound Video of the Week
This Week in the Hound House:

In just a few weeks, I've fallen in love with Costco, especially their Ling Ling chicken and vegetable potstickers, only 260 calories for five big ones, enough for a full meal. My second favorite is their tortilla-crusted tilapia, perfect for making fish tacos. If you don't want to spend money on a membership, tag along with a friend who has one and try these two foods.
Do you have a favorite food from Costco? Reply and share.
1. 5 Ways to Recycle Your Tweets

Back in the old days, we'd use an app or a software program to hang on to a tweet and push it out again, say, every six weeks over a year.
Not anymore. Twitter's new Terms of Service say you can't send tweets that are duplicates or "substantially similar to tweets on one account or over multiple accounts you operate.
That means you have to think if you want to reuse a tweet.
The folks at MeetEdgar.com suggest five ways to make this a little easier. Here's one:
Let's say you want to link to a blog post. On the first version of a tweet, use a Twitter card, which functions similarly to Facebook link previews by inserting an image, the title of the page you're linking to, and some preview of text. When you want to share the same content again, consider attaching an image from the blog post itself.
To do: See the four other ideas and examples in the article "5 Easy Ways to Whip Up Quick Variations On Your Tweets." 
#TwitterTips #Twitter
2. Meet Readers Where They Are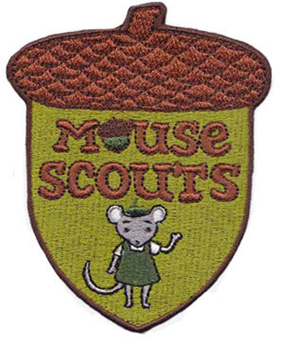 Gangster Willie Horton said he robbed banks "because that's where the money is."
If you're an author, adopt that philosophy. Go where the readers are, even if that means attending rinky-dink festivals, small book shows and church events that pull the perfect target market for your book. Attendance at just one show can sell far more books than a story in a top-tier media outlet can.
That's what author-illustrator Sarah Dillard did to promote her Mouse Scouts book series, which is beloved by Daisies, Brownies and Girl Scouts throughout the U.S. She had been invited to attend the Girl Expo in Vermont. She set up a table to sell books. Every customer who bought a full four-book set received free an embroidered "Mouse Scouts" patch.
"We were flocked with customers pretty much all day long," writes fellow children's author Elizabeth Bluemle in an article for Publishers Weekly. "We sold loads of full series sets."
Her article also tells the story of how children's publishers Cheryl and Wade Hudson sold grocery bags full of books at church festivals, neighborhood parties, and school events.
To do: Read the article "Untapped Markets: Meeting Readers Where They Are." I'm writing a guest blog post and would like to hear from authors who sell lots of books to niche audiences at events. Click Reply and share your story. You and your book might appear in my article.
#AuthorMarketing #BookMarketing
3. Tomorrow: Free Publicity Training

This sounds like a no-brainer but I'm amazed at how many publicity-seekers never think of it.
If you want contact information for a journalist, blogger or someone else who you want to pitch, start by visiting their website. Many media outlets have a list of staff members, the topics they cover, and their email addresses. The second best thing to do is to use Google and search for "Sally Smith USA Today reporter email" or use the Hunter app, a Chrome extension that helps you find email addresses behind the website you're browsing, even if you don't know the reporter's name.
Tomorrow, Steve Harrison will explain many other ways to use media large and small and get the maximum publicity possible. The free training via webinar will be offered at 2 and 7 p.m. Eastern. You will learn about the one thing you must have at your website if you want the media to take you seriously, where to get names and contact info so you can reach out to journalists, and how to get someone else to do all the work to get you publicity when you can't afford a pricey PR firm.
To do: Register for "Three Steps to Land Maximum Publicity in Minimum Time" using this affiliate link. 
#FreePublicity #PublicityTips
4. Hound Video of the Week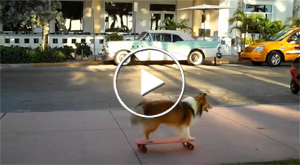 Meet Twig, the dog that skates throughout South Beach, even up and down stairs.