Issue #1151 Aug. 19, 2017
Publisher: Joan Stewart
"Tips, Tricks and Tools for Free Publicity"
In This Issue
5 Ways to Insult a Journalist
Where Gold is Buried in Magazines
Killer Book Signing Tip
Hound Video of the Week
This Week in the Hound House:

I'm taking a break for a week to unplug from computers, phones and work. Look for me back here on Aug. 29.
1. 5 Ways to Insult a Journalist
When I worked as a reporter, a few of the people I interviewed insisted that their publicist or PR person be included in the interview.
The problem, however, is that some PR people act like bodyguards, shielding their client from tough questions and making the reporter work through one more layer to extract information from the interview subject.
Don't do that. Work with your PR person on things like your key message, extras you can offer the journalist and pithy quotes. If you feel you need media training, get it. You'll feel more comfortable during the interview and you won't annoy the reporter who will be telling your story to the world.
To do: For five more tips, see PR pro Marcia Friedman's article "How to Give Journalists What They Need–and Avoid Irritating Them." 
#MediaInterviews #WorkingwithJournalists
2. Where Gold is Buried in Magazines
When you find a magazine where you want publicity, don't pitch anything or anyone until you read two features that most people skip.
The letter or column from the editor. It's filled with golden nuggets you can use to determine what kinds of stories to pitch, new features, new staff members, and personal details about the editor's life that you can weave into a pitch later. Example: "I saw in your August Editor's Column that you're trying to cut back on sugar. My new cookbook, "Nothing Sweeter Than Sugar-free" includes recipes that were all taste-tested by a panel of people with a sweet tooth."
Contributors. These are typically the freelance writers and photographers whose articles or photos appear in that issue. Read their profiles. What other publications do they sell to? Google their names and what else you can learn. Look for them on social media and follow them!
To do: The Fourth Edition of my ebook, "How to be a Kick-butt Publicity Hound," is the best overall learning tool I've created if you're new to publicity or you want some advanced tips. Grab it for half off through Sunday night by using coupon code KICKBUTT at checkout. Order here.
3. Killer Book Signing Tip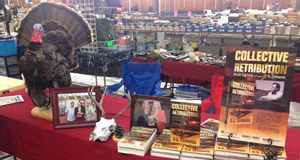 When author D.S. Edwards signs his books at events and wants a visitor's email address, he doesn't just say, "Join my email list and get my free blah-blah-blah…"
He does something brilliant. He lays the groundwork for the next sale.
"This is also the perfect time to tell them you would be more than happy to let them know when your next book is released," he says. "Tell them that only a few selected readers will be able to buy the book before it's available to the general public. Make them feel privileged. Ask them for their email address and so you can let them be one of the few. I take a notebook to each event and write down all the email addresses I collect."
He has sold more than 6,000 copies of his two Dystopian novels, mostly at events like county fairs, craft shows, gun shows and even a prepper convention. Read "Authors, Swallow Your Pride and Work Book Signing Events," a guest post he wrote at my blog. For more tips on how to use email, the most powerful book marketing tool on the planet, watch my free training on "How to Use Email to Attract Fans, Create SuperFans & Sell More Books."
#BookSigningTips #BookMarketing
4. Hound Video of the Week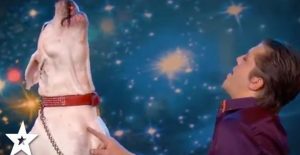 Put your paws together and give BL Ochman of Pawfun.com a round of applause for this fun video of a dog singing to Whitney Houston's "I Will Always Love You" on "Belgium's Got Talent."