Issue #1275 Nov. 13, 2018
Publisher: Joan Stewart
"Tips, Tricks and Tools for Free Publicity"
In This Issue
46 Big Websites Want Content
How to Repurpose 5-Star Book Reviews
How to Promote Small Business Saturday
Hound Video of the Week
This Week in the Hound House:

My friend and I saw "A Star is Born" over the weekend we can't understand why reviewers are gushing. I loved Lady Gaga's voice and acting. But the sappy melodrama and plodding screenplay begged for an editor with a giant pair of scissors. Bradley Cooper could have cut 45 minutes out of the movie easily. Onto "Bohemian Rhapsody," the story of the rock group Queen, later this week.
1. 46 Big Websites Want Content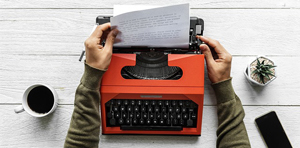 When you write a killer article for your blog, you're probably lucky if a few hundred people read it. Then it dies on the vine.
Sarah Peterson of Sumo.com says she found a valuable article with step-by-step tips on how to get extra traffic and hundreds of new email subscribers.
"I hadn't republished an article for months, but three days after this guide was published, an article I'd submitted for republishing to Elite Daily months ago went live, proving just how well republishing works," she writes.
In less than three days, that republished article brought in well over 1,000 new email subscribers.
What you'll love about the tutorial she used is that you can guest post on dozens of sites without having to create, write and pitch a whole new article.
Most of these sites are huge media platforms. Their long reach means republishing can be very lucrative when you boil it down to return on time investment. And you don't need to fret that Google will severely penalize you for republishing your work on another website.
To do: Read "How To Get Extra Traffic From Republishing Your Articles." Look for the long green bar that says "Click here to get the spreadsheet." In exchange for your email address, you'll get a list of the 46 top sites that take republished content. It includes their contact info.
#contentmarketing #articlemarketing
2. How to Repurpose 5-Star Book Reviews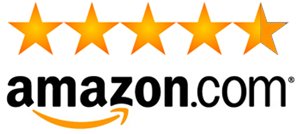 You've racked up an impressive 110 reviews on Amazon for your book, and the majority of them have five stars. Congratulations!
Many readers consult reviews before deciding whether to buy. But not all buy on Amazon. They'll miss those sterling reviews, won't they?
Not if you harvest the best reviews and use a variety of tricks to make them do double and triple duty. Here are three ideas from Debbie Young from the Alliance of Independent Authors:
Use the quotes on the back of your next book cover, with the writer's permission. Or if you do print on demand, edit the back cover to include new quotes.
Compile a "What Readers Say" page for the front of your books.
Include the best quotes on information sheets for booksellers.
Here are three of my ideas:
Weave excerpts into your LinkedIn profile and on other social media sites.
Incorporate the best nuggets into your speaker one-sheet, the one-page marketing piece that you send to meeting planners. Google [speaker one-sheet], click Images and you'll see dozens of sample one-sheets.
If you have an excerpt from an influencer in your industry, feature it on the header at one or more of your social media sites.
To do: Read all of Debbie's ideas in her article "Book Marketing: Make the Most of Your Great Book Reviews." 
#BookReviews #ReaderReviews
3. How to Promote Small Business Saturday

It's wedged between Black Friday and Cyber Monday, a day set aside by American Express to encourage people to shop locally.
If you own a brick and mortar business, you have opportunities galore to promote Small Business Saturday for free. This year, it's celebrated on Nov. 24.
Here are three of my favorite ideas:
Create a "husband only" or "wife only" shopping day on Nov. 24. Email each spouse a list of what the other one wants. If it's too late to do it this year, start planning for next year.
Contact your local weekly newspaper and offer to be part of a preview story before the special day, and afterward.
Publicize a special event at your business, and let the local TV stations know. Cooking classes, dog obedience training, art lessons for the kids, and fashion shows are the kinds of events TV loves because they include three critical elements: people, color and motion.  
To do: Read four more ideas in my article "7 Ways to Promote Small Business Saturday on Nov. 24."  Buy the electronic transcript of an hour-long interview with former TV producer Shawne Duperon and learn how to identify the all-knowing, all-powerful "Queen Bee" inside every TV newsroom. This is the person who decides what gets covered and what doesn't. Shawne also explains how to sound cool by talking the language of the newsroom, the formula for the perfect story idea, and the best time of day to call. Publicity Hound Tom Graber used her tips and got three media hits in only two days, including an in-studio interview on a TV station in Milwaukee. Learn how you can do it too. Order the transcript "How to Get on the Local TV News Tomorrow" here.
#SmallBizSat #ShopSmall
4. Hound Video of the Week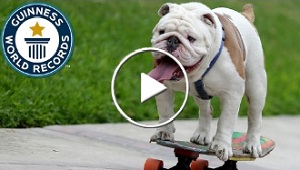 Watch as Otto the Skateboarding Bulldog tries to make it into the Guinness World Records by riding through a human tunnel of 30 people. Will he do it without wiping out?