Issue #1047 August 16, 2016
Publisher: Joan Stewart
"Tips, Tricks and Tools for Free Publicity"
In This Issue
4 Free Social Media Checklists
Speak & Sell Stuff on Cruise Ships
11 Sources for Free Images
Hound Video of the Week
This Week in the Hound House:

Here they are in all their glory: the gorgeous 11-inch-wide blooms that finally popped opened on my hibiscus. What really has me pumped is the offer from one of my readers to send a few cuttings of the rainbow hibiscus she grows. Go ahead. Google "rainbow hibiscus photos." Don't they look like paintings in an art museum?
1. 4 Free Social Media Checklists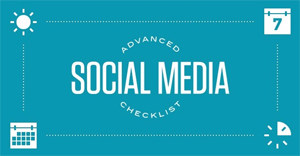 By the time you're done writing a meaty article, or producing a content-rich video, I'll bet you feel like I often do.
You just want to publish the bloody thing to your blog or YouTube channel and move on.
Share it on social media? Groan.
If your efforts to promote your content have been haphazard, you'll love the series of four Advanced Social Media Checklists from Michael Patterson of Sprout Social.
You'll find a Daily Checklist, Weekly Checklist, Monthly Checklist and Quarterly Checklist, along with the recommended number of times you should share your content to each channel. (Where have these been all my life???) Here's the best part. You can give these checklists to your assistant who can share a lot of it for you.
To do: Go to Peg Fitzpatrick's blog and print Your Complete Social Media Checklist. Then follow Peg and Michael.
2. Speak & Sell Stuff on Cruise Ships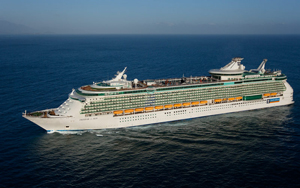 One of the best places for authors, speakers and experts to speak and sell stuff is aboard a cruise ship where you can trade your talents for a free luxury cruise.
Unlike your local bookstore where you meet several dozen fans for a book signing, or your local chamber of commerce meeting where you're speaking to a few hundred people at best, a cruise ship can put you in front of thousands more people who are relaxed, happy and in the mood to buy–especially if they're drinking.
That's why I was doggone delirious yesterday when I heard that Royal Caribbean, the cruise line we've chosen for our fourth annual Publishing at Sea cruise Jan. 21-29, has said yes to letting us host an author book signing for the 3,634 passengers. The cruise is even sanctioning the event. That means there's a good chance it will be listed in Cruise Compass, the newsletter you'll find inside all the cabins each night so guests know the itinerary and activities the following day.
Daniel Hall, one of the faculty members who's teaching authors on the cruise, arranged all this. For years, he's been teaching people how to get booked to speak on cruise ships and cruise free. He'll be teaching a session on that topic when we cruise in January. We'll also be training our authors on how to do a book signing and sell more books onboard and on land.
If you don't have a book, that's OK. You can sell CDs, DVDs, workbooks, booklets, coloring books–any information product that fits inside a suitcase.
We wrestled 10 more cabins out of Royal Caribbean and have just a few left.
To do: Check out the ship, Freedom of the Seas, in the video above. Then go to PublishingatSea.com and read more about the cruise. On the fence? Call book shepherd Judith Briles at 303-885-2207 with questions and book your cabin before they're all taken. You'll have access to me for nine days and tap into my brain at no additional $300-per-hour charge. I'm presenting programs on how to become an expert in your topic and how to write perfect author press releases, including one for your book launch.
3. 11 Sources for Free Images

My favorite types of images are free–especially the retro images like those from the 1920s.
They dress up blog posts and marketing materials.
New Old Stock offers free vintage photos from the public archives, free of known copyright restrictions. You can even find old photos of the Beatles and Rolling Stones. Many of these are ideal for uploading to Canva, my favorite graphics tool that lets you put text on top of photos and make other eye-popping images perfect for social sharing.
Powtoon, the free animated video tool I told you about last week, included New Old Stock on its list of 11 Awesome and Free Image Resources. I also wanted to let you know that Powtoon has some super examples of how to use its free or paid video tool for the real estate industry. Check out three animated real estate videos here.
To do: These photos and videos can help you monetize your blog. I know more than two dozen other ways. They're on the video replay of my training "27 Ways to Monetize Your Blog." Save $24.98 when you use coupon code "monetize" at checkout (click on apply and recalculate). The discount disappears at midnight Wednesday night, Aug. 17.
4. Hound Video of the Week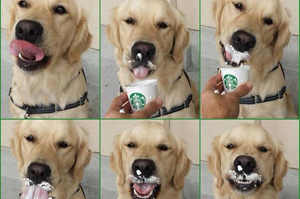 Going to Starbucks? Take your pup with you and order a free Puppuccino. It's a small cup of whipped cream and you'll find it on the secret menu for pets. Four paws up, way up, for the Kitsap Humane Society in Washington. Every Tuesday, a volunteer takes one of the shelter dogs to the local Starbucks for a delicious Puppuccino. The dog gets to take a break from the shelter, and enjoy a car ride and a treat. The Starbucks also posts signs telling customers about the dog of the week, an incentive to adopt these cuties.