Issue #1008 April 2, 2016
Publisher: Joan Stewart
"Tips, Tricks and Tools for Free Publicity"
In This Issue
14 Questions to Never Ask Journalists
Sell Books to Libraries
22 Clothing Tips for TV Interviews
Hound Video of the Week
This Weekend in the Hound House:

I'm off to the nursery today to buy Deer Scram. Publicity Hound Shirley Schultz recommended it when she saw my plea on Facebook for a new weapon to combat the critters in my garden. When I saw her comment, I said to myself, "Hey, I heard about that at the Garden Club meeting and even mentioned it in my newsletter. I'll stop at the drug store on the way home from the nursery and see if I can find some memory pills."
1. 14 Questions to Never Ask Journalists
PR pro Michelle Garrett's "7 Questions NOT to ask a reporter" are a handy reminder for anyone new to publicity, as well as to Publicity Hounds who have been working with the media for awhile.
Reading them took me back to my days as a newspaper reporter and editor. I immediately started thinking of other questions people asked that drove me crazy. Like this one:
"I'm a Certified Speaking Professional as well as a Certified Professional Organizer. Can you be sure to put the initials CSP and CPO after my name in your article?"
No, I won't.
That's what we call "alphabet soup." Most readers don't know what CSP or CPO stands for. Nor do most of them care. Seeing those letters will only confuse them.
If relevant to the topic, a journalist might include the full titles within the article, particularly if you explain what certification means and why it's important to people who do business with you.
I thought of more questions and added them to my own list.
To do: Read them all at my blog under the headline "14 Questions to Never Ask Journalists." I'm writing another list of questions you have every right to ask, including some you should ask. I'll share those with you on Tuesday.
2. Sell Books to Libraries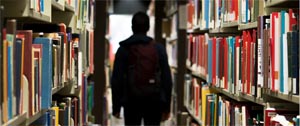 Do you hate the thought of selling your book to a library?
"Why would I want to do that and have 75 people read it?" an author asks. "I'd rather sell 75 books to those 75 people."
You don't know how to reach those 75 people. But your library can. So can hundreds of other libraries that can buy hundreds more of your books. And Amy Collins knows exactly how to reach them.
Amy is teaming up with Daniel Hall to present a free webinar from 4 to 6 p.m. Eastern Time this Thursday, April 7. It's called "Sell (or Rent) Your Books to Libraries: Cashing In on the Secret Library Passive Income Opportunity for Independent Authors."
The U.S. has more than 30,000 public libraries. Many of them might love to buy your books.
To do: Sign up for Thursday's free training by entering the code 101230843 after clicking here. I'll share more with you on Tuesday.
3. 22 Clothing Tips for TV Interviews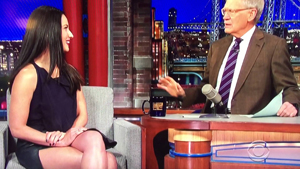 That adorable black leather mini skirt that looks great on you can create problems galore at a TV station where you're doing an interview.
I can see you now, talking to the host and yanking on your skirt that's hiked all the way up to…well, let's just say no one is looking at your face. And they aren't listening to what you're saying either.
In the video above, David Letterman struggles to concentrate while interviewing Olivia Munn. Poor Olivia is trying to stay decent while battling a slit skirt that's threatening to reveal, as my mother would say, "everything she owns."
Short skirts, slit skirts, and dresses with necklines that plunge to the South Pole, aren't appropriate for TV interviews. Also beware of busy necklaces and infinity scarves that can get caught in your lapel microphone. Or charm bracelets that jingle and jangle. Or dangling earrings that swing back and forth.
PR guy Scott Lorenz has compiled a long list of tips on what men and women should and shouldn't wear to a TV interview. Thanks to media coach TJ Walker and to the other coaches who contributed these tips.
To do: Read Scott's "22 Tips on What to Wear for a TV Interview." Print it and tape it to the inside of your closet.
4. Hound Video of the Week
What happens when you have one jar of peanut butter, one spreader and 10 Dalmatians? Watch what happens in this family's "Dalmatian Nation" when the pups taste peanut butter for the first time.