Issue #1193 Jan. 30, 2018
Publisher: Joan Stewart
"Tips, Tricks and Tools for Free Publicity"
In This Issue
10,000 Free Vintage Movie Posters
Where to Promote Your Expertise
Easy App for Instagram
Hound Video of the Week
This Week in the Hound House:

I'm getting my land legs back after returning Sunday from the 5th Annual Publishing at Sea cruise aboard Royal Caribbean's Oasis of the Seas. During our book signing over two afternoons on the main promenade, we sold 161 books for a total of $1,650. My favorite activity was the "Salsa, Salsa, Margaritas" excursion on Cozumel, even though I don't drink. We made 6 different types of salsa, ate baskets of corn chips and learned how to salsa dance.
1. 10,000 Free Vintage Movie Posters

Looking for a fun image to accompany a blog post, article or for social sharing?
How about a vintage movie poster? The research library at the University of Texas at Austin's Harry Ransom Center has more than 10,000 posters that it's digitizing and slowly making available online. They span the entire history of film from the silent era to the present day. The entire collection won't be available for awhile. But so far, you can download 500 posters in high resolution.
You'll find lots of movies you recognize like The Parent Trap, Kiss Me Kate, Lady Chatterley's Lover, Old Yeller, the Trapp Family–and lots of movies that will be new to you. Use the search box to type keywords and find what you need quickly.
To do: Browse, search and download here. When you're done, check out one of my other favorite free image sites, the Digital Comic Museum where you'll find thousands of free public domain Golden Age comic book covers. I've used several of these to accompany blog posts.
#MoviePosters #FreeImages
2. Where to Promote Your Expertise
On the Publishing at Sea cruise, I presented a session on how authors can become a subject matter expert and where to promote your expertise.
Don't call yourself a guru, a specialist or a strategist. Call yourself an expert. That's the word journalists and others use when searching for people who have a body of knowledge they want to tap into. Even if you haven't written a book, here are seven places to do just that:
In your LinkedIn headline, the two-line description to the right of your photo.
In other social media profiles.
On your website homepage.
In the author resource box at the end of articles you write.
In titles of your YouTube videos.
In pitches to journalists and bloggers.
On Amazon: In your Author Central profile, in book descriptions, and in book reviews you write for other authors.
To do: Check all the sources above and add the word "expert," assuming you know more than most other people about your topic.
#Experts #Expertise
3. Easy App for Instagram

In the old days, you needed a smartphone to upload photos to Instagram. Not anymore.
Now you can use Gramblr, a free desktop application that lets you upload photos or videos from a PC. It works for Macs and Windows.
Thanks to Kelly Johnson of Cornerstone Virtual Assistance, one of our faculty members on the Publishing at Sea cruise, who shared this tip.
To do: Watch the short video on how this works and learn more here. 
#Instagram #PhotoTool
4. Hound Video of the Week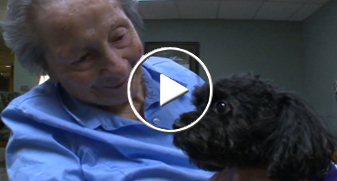 Nala, a black teacup poodle, makes everyone smile at a nursing home in Minnesota. She scurries from room to room and rides the elevator herself to see her friends. She even knows who is in which room, and who has Alzheimer's and needs an extra dose of her love. A big thanks to Publicity Hound Tracey Bennett for sharing this one. Send it to a friend who needs a pick-me-up.