Issue #982 Jan. 2, 2016
Publisher: Joan Stewart
"Tips, Tricks and Tools for Free Publicity"
In This Issue
10 LinkedIn Templates
More 80/20 Sales & Marketing Tips
Make This Simple Website Tweak
Hound Video of the Week
This Weekend in the Hound House:

This long holiday weekend is perfect for Holiday Morning French Toast made with tart apples and dried cranberries. It was the hit of my sister's Christmas morning brunch. You can make it the night before, bake it the next morning, and enjoy the heavenly aroma before you dig in.
1. 10 LinkedIn Templates
When inviting people to connect with you on LinkedIn, never use the generic invitation that says, "I'd like to add you to my professional network on LinkedIn."
What that really says is, "I'm too lazy to create a customized invitation for you."
Instead, use one of the 10 templates for LinkedIn requests to connect written by freelancer Aja Frost.
 
Here's one I wrote for you if you're trying to connect with a journalist you don't know. You always score extra points if you've done your research.
Dear (Journalist):
I follow the technology articles you've written for Fast Company and Forbes. The article you wrote in October on the most popular apps for time management was a winner. I'm a time management expert and I'd like to connect with you because I don't want to miss any of your tips or other content you're sharing on LinkedIn.   
The Publicity Hound says: Don't pitch in your invitation to connect. Build the relationship first.
2. More 80/20 Marketing Benefits
Here are four valuable take-aways from Perry Marshall's book, "80/20 Sales & Marketing: The Definitive Guide to Working Less and Making More":
20 percent of your customers will spend 4 times the money.
1 percent of your customers will spend 50 times the money.
Email 5 people who know you well and ask them what your Unique Capability is. Compare their answers and focus on your gifted zones or talents.
Out of thousands of things you can obsess about, only 3 or 4 really matter right now. 
Thirty more take-aways are on the one-page cheat sheet you can access when you buy Perry's book "80/20 Sales & Marketing" for only a penny plus shipping. It will show you how to identify the 20 percent of your efforts that result in 80 percent of your profits, and push lots of monkeys off your back. I'm promoting this offer as an affiliate because I read the book, loved it, and I'm rereading it.
Get "80/20 Sales & Marketing" here.
3.  Make This Easy Website Tweak
Keep website visitors, journalists and potential customers from falling through the cracks.
Add your phone number, shipping address and email address to every page of your site. Yes, every page.
I wanted to mail a check this week to someone I haven't heard from in years, and I wanted to be sure her mailing address hasn't changed. I scoured her website for an address and could only find one of those annoying "Contact Us" forms. I filled it out but haven't received a reply. I owe her money so I won't give up.
But if I wanted to send her a check to buy something, I'd bail out and buy from someone else.
Don't want your home phone made public? Get a Google Voice number.
Don't want your home address on your site? Rent a post office box.
Don't want your personal email harvested? Use a secondary email address.
Each piece of missing contact information means missed opportunities and sales.
4. Hound Video of the Week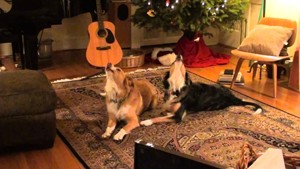 Sierra sings a lazy version of "Auld Lang Syne."