Press Release Tip 51
Explain why you wrote the book
If you're stuck thinking of a way to begin your press release, one of the best angles is to explain why you wrote the book. This is particularly helpful for fiction authors.
That's what I did when I wrote the press release below for my client, Jo Ann Kairys, who wrote the children's picture book "I Want Cake!" with her son, Dr. Daniel Kairys. Jo Ann was concerned that parents and children had a meager selection of books about diversity. She is also a diversity expert. Notice the phrase "New Jersey Diversity Expert" appears at the front of the headline. 
Contact:
Jo Ann Kairys, Author
Phone: 732-986-3530 (Eastern)
Email: JoAnn@StoryQuestBooks.com
Website: http://www.StoryQuestBooks.com

New Jersey Diversity Expert's Picture Book for Children
Combines a Sweet Cross-Cultural Adventure with Eye-popping Illustrations  
Manalapan, N.J., Sept. 8, 2015 — Parents, teachers and librarians concerned about the lack of diversity in children's books will welcome "I Want Cake!"  an intergenerational picture book featuring three precocious siblings as they venture through their multicultural neighborhood looking for cake for breakfast. It will be released Nov. 1 by Story Quest Books.
Jo Ann Kairys of New Jersey–a diversity expert, award-winning author and magic-realism illustrator– wrote the book with her son, Dr. Daniel Kairys, a general surgeon in South Central Florida. She also illustrated it and wove the rich visual diversity of three generations of their family into the vibrant, eye-popping scenes.
This story, for children ages 4-8, begins with 6-year-old Leen telling her older sister, YaYa, she wants cake for breakfast. Though at first YaYa resists the idea, together they quickly rope in their little brother Jaden. They try to get help from their Haitian mother and grandmother, American Jewish father and grandfather, and their Cuban neighbor. Each adult disagrees with the cake request and urges them instead to eat one of their own, culturally-preferred breakfast delicacies. Undeterred, the cake-for-breakfast team perseveres, even as the adults secretly delight in their escapade.
"I wrote the book because I was inspired by my son Daniel's storytelling," Kairys said. "He dreamed up five original stories for kids during long drives through lonely Florida sugar cane fields on his way to the hospital where he serves as the only staff surgeon."
"Because the children are part of our nuclear family, our focus was not on their cultural or racial identity, but rather on writing a fun story that reflects the rich diversity of our extended family's background, personalities and spirit. Frankly, we just trust that grandparents, parents and children of all backgrounds will delight together in this family adventure."
In 2013, for example, 3,200 children's book were published but only 93 were about black people, and only 57 had significant Latino content, according to a study by the Cooperative Children's Book Center at the University of Wisconsin.
In addition to her Haitian American grandchildren, Jo Ann Kairys and her husband also have three adopted children from both Native American and Russian American backgrounds, two grandchildren from Native American and African American backgrounds, and one grandchild born in Russia. Her first book, Sunbelievable, released in October 2011, won the prestigious Mom's Choice Award.
 "I Want Cake!" combines eye-popping & colorful art, spunky characters, a plot that is delightful and educational, plus cross-cultural celebrations of multi-generational families. Parents will love reading this story to children who will joyfully follow, read and re-read it as they discover that siblings, parents, grandparents and neighbors are both different from and just like they are!" 
–DAVID TULIN, Recipient of the Patterson Award from the Philadelphia Committee for Public Schools, Former Educational Director of the Philadelphia Board of Jewish Education, Founder of Tulin DiversiTeam Associates, a cross-cultural competency firm
"I Want Cake!" is available through pre-sale at Amazon.com in hardback for $16.95 (ISBN  978-0982699812) at http://tiny.cc/iwantcake. It's also available at bookstores including Barnes & Noble.
###
About the Book: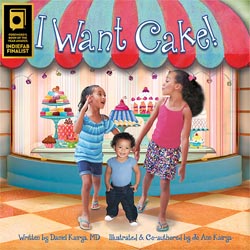 I Want Cake! is a deliciously entertaining children's book with highly acclaimed, gorgeous illustrations and a fun story by award-winning Dr. Daniel Kairys and his mother, Jo Ann Kairys, who is also the illustrator. 
The story's spunky, imaginative characters – determined to have cake for breakfast – bring us into their loving, inclusive, cross-cultural, multi-generational family.
Parents and children will read and re-read the story as they discover that siblings, parents, grandparents and neighbors are both different from and just like they are! But, do they get cake?
About the Authors: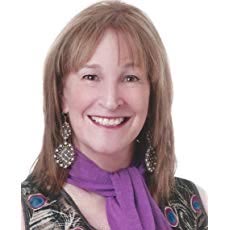 Jo Ann Kairys, a native of Philadelphia, PA, writes with her son, Dr. Daniel Kairys, and illustrates their children's stories. Their first book, Sunbelievable, earned numerous book awards, including Mom's Choice Gold, for storytelling and illustration. Her magic-realism illustration style is completely unique in children's literature. The rich, vibrant colors pop off the page. "You can't take your eyes off of them!" writes the San Francisco Review. As a diversity expert, she teaches and publishes topics relating to cultural sensitivity and diversity.
Jo Ann Kairys is available for media interviews and can provide background, story ideas and other information on diversity, book illustration, and Photoshop. For bulk orders, requests for speaking engagements, or training in digital illustrations, call 732-986-3530 (Eastern).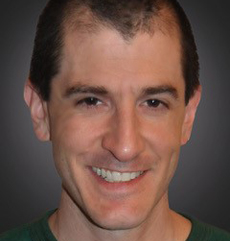 Dr. Daniel Kairys, who co-wrote "I Want Cake!" with his mother, Jo Ann Kairys,  is a general surgeon in Ellsworth, ME., and is Chief of Surgery at Northern Light Maine Coast Hospital. After finishing college he volunteered at a rural hospital in Haiti, learning patient care from the one solo physician. He then returned to his home state of New Hampshire and entered Dartmouth Medical School.
In 1995, during his third year of studies, he took advantage of an agreement between Dartmouth and the University of Miami to be dispatched to Haiti with a project called Medishare. He spent two weeks there, ministering to the sick and injured and his feelings for Haiti deepened. He fell in love with the poorest nation in the hemisphere, and with Junia, the administrative assistant for Medishare who arranged Dan's travel details. They are the parents of three children.    
Dr. Kairys received his medical degree from Geisel School of Medicine at Dartmouth and completed his general surgery residency at Eastern Virginia Medical School. 
Opportunity #51 to write a press release: An official announcement
Write a press release when you want to announce something–that you're running for re-election, or opening a business, or holding a rally, or whatever. But too many press release writers overuse the words "announcement" or "announced yesterday." The announcement is not news. What they are announcing is. 
I wrote about this and explained why I don't like to see those words in releases. See "Don't use any form of the word 'announce' in press releases."
Next: Tell a story.
Need Help with Your Author Media Kit?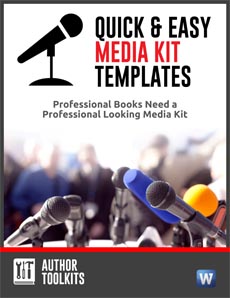 A press release is a staple in your book's media kit. Yet so few authors know how to create these kits correctly. My "Quick & Easy Media Kit Templates" are all you need. They make it drop-dead easy for you to create every important marketing piece that will help you sell your books. This package includes:
A comprehensive guide that explains what a media kit is, how to use it, what goes into it and how to turn the Word documents you will create into PDFs. 
15 easy-to-use templates
Samples of every template so you can see what each element of your kit is supposed to like like when you're done.
Instructions on how to use the four types of photos that should be included in your media kit.