If you're promoting a Tweetup, an event where people who Twitter come together to meet in person, or an event that's open to anyone regardless of whether they tweet—like a class, a book-signing, a fund-raiser, or a fashion show at a department store—check out Twtvite.
Just fill in the blanks on the screen (event name, where, when, time) and describe your event in 140 or fewer characters.
Here's an example of an event on Friday, May 1, hosted by Hanes, where people can meet their Hanes Comfort Crew bloggers and experience the Disney Design-a-Tee Store at Disney World in Lake Buena Vista, Fla.: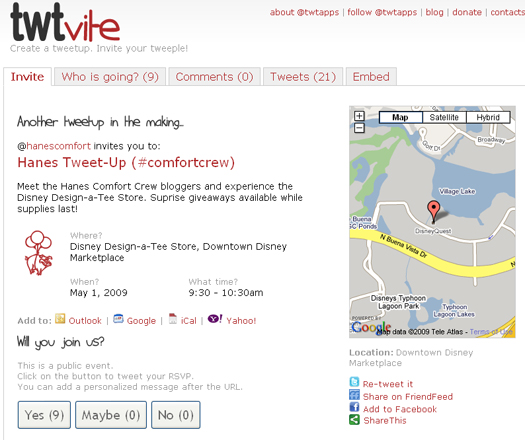 After creating your event, you can also:
Designate whether the event is public or private, and limit the number of RSVPs.
    

See pictures of attendees
     

People following you on Twitter can leave comments and questions.
    

You can display all tweets related to your Tweetup (and

#hashtags

).       

Make it searchable and available to travelers via

TwtTRIP

.     

Display the location on a Google map and add it to your calendar.
     

Embed the invitation on your website.
Smart Publicity Hounds should be able to think of all kinds of uses for this.
Public speakers can promote public and private speaking engagements and training sessions. Musicians can promote concerts. Artists can advertise art shows and gallery openings. Tourist attractions can use it to promote upcoming events. Retailers can promote special sales and open houses. Anyone who hosts fund-raisers can reach many more attendees and donors than through traditional media—and for free!
A hat tip to PR pro Judy Lederman, who I love to follow on Twitter, for sharing this. She says she likes Twtvite for these reasons:
"It's shotgun—an alternative to a more targeted evite (which would be hard to send to ALL your Twitter followers).
"It's green—no paper needed.
"It's a wonderful way to facilitate meetings with all the random people you've been blasting to on Twitter. It's always fun to meet people you've interacted with online.
"And yes, the events are live—although it could work for virtual meetings I suppose. But the whole point is to invite tweeps to brick and mortar events.  This is the element that is currently a bit weak in Twitter—creating the "bridge"—but apps like this will help facilitate it and hopefully assist retailers in building business."
How will you be using Twtvite to promote your events?