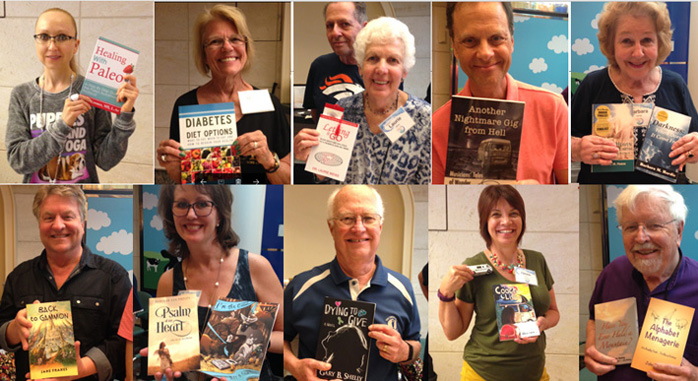 It's Day 8–Saturday, Jan. 28–on our Publishing at Sea cruise. We're so pumped up after yesterday's first book signing that we're ready to dive right in and start selling again at the second one.
Not so fast, mateys. This is another sea day, headed back to Fort Lauderdale. That means more classes all day. The book signing will have to wait until 2 p.m. Here are highlights from today:
8 a.m.: 
I'm up first to present "7 Things Your 2017 Publicity Plan Must Include." Three top take-aways:
Identify, find and penetrate your target market, something that many authors find difficult. Your target market includes your ideal readers, journalists and influencers.
Create top-quality free content that others will want to share.
Create your own media outlets such as a TV channel on YouTube, your own radio show as a podcast, and a blog. Cross-promote them to make it easy for people to find you.
9:30:
Amy Collins is up next for a session on "Print on Demand and the Marketplace." Amy's top take-aways:
Use IngramSpark for bookstore and library access. Use Createspace for Amazon access. You need them both.
A distributor works FOR the publisher. They are hired by the publisher to warehouse the books and actively sell them to retailers and libraries. Billing, shipping, fulfillment and customer service are common duties of a distributor. 
A fulfillment house does all of the above except sales. They warehouse, invoice, ship, collect and do customer service. Because there are no sales services, they usually charge about half of what a distributor charges.
11 a.m.:
Daniel Hall takes the spotlight for a session on"Step-by-step Insider Secrets to Producing Highly-Profitable Webinars for Authors & Info-publishers." His best tips:
During a free webinar like this one, make a promise to participants, right up front, that you will deliver all the materials you said you would and, if you do, they can expect an offer at the end.
Show proof: proof why the audience should listen to you, proof why your process or program works, and proof why they need what you're selling.
Build scarcity and urgency into your offer which is good only for X number of days. You can also throw in extra bonuses or benefits for the first X number of people who buy.  
12:30 p.m.:
It's lunchtime, and about 19 of us join Judith Briles at Sabor, a Mexican restaurant where the waiters just keep coming, one after another, with plate after plate of appetizers—all before the main course.  
2 p.m.:
The ship's loudspeaker blasts a message that the book signing is starting on the Promenade, on Deck 5.
It's showtime, mateys. Man your stations, order forms in hand, and start selling! 
Today's crowd is smaller than yesterday's because we're competing with a popular bingo tournament and an art auction on the ship. But that's OK. They're still buying. And we're still signing.
By the end of the day, we sell a grand total of $1,476 in books. Royal Caribbean gets $400 of that, and they consider the event a huge success. We do too. Our authors couldn't be prouder.  
8 p.m.:
I'm exhausted. I join author Cheryl Obermiller and Judith Briles in the hot tub, and we boil for 90 minutes. Then it's back upstairs to pack.
Seeing the  luggage tags in my room always makes me sad. I'm already counting the days–358 to be exact—before we do it all over again.
We'd love to have you join us next year.