It's Thursday, Jan. 26, Day 5 on the fourth annual Publishing at Sea cruise, where authors are learning how to market and sell their books. A few brave passengers venture out on their own to visit Orient Beach, a paradise for nudists. Others head for Maho Beach, where you can watch planes take off and land a mere 100 feet above beach goers at the runway's end.
Here's a recap of today's highlights.
9 a.m.:
Royal Caribbean's Freedom of the Seas arrives in Philipsburg.
Today's a workday for me, and I'm staying on the ship. Authors aboard this cruise get free consulting with as many of the faculty members as they wish. I'm meeting with two authors this afternoon.
But others in our group are headed for the nude beaches in St. Maartin, and the thrill-seeking sights in Maho Bay.
First, the nude beaches.  They are not sanctioned or recommended by Royal Caribbean. Passengers must get there and return to the ship on their own.
St. Maarten, the Caribbean's destination for nudists, has a relaxed attitude toward beach nudity except at a few resorts that cater mostly to a conservative clientele. Topless sunbathing is the norm almost everywhere. 
The Dutch side doesn't advertise "official" nude beaches, although Cupecoy Beach has been the clothing-optional spot spot for decades. At several remote beaches, you can strip and swim.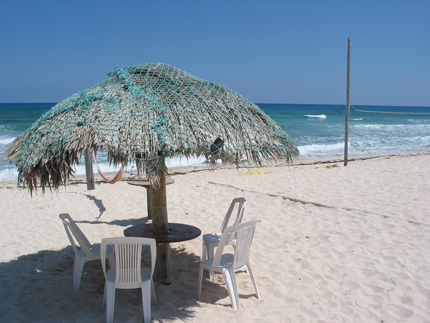 On the French side, you can swim naked or not at many empty beaches. 
Book publishing expert Amy Collins, one of our faculty members, visited a nude beach on our cruise last year and said, "I never knew that gravity works on men as well."
Author Alexis Hartz, who visited Orient Beach today, offers a more helpful summary if you're thinking of checking it out.
"From the pier, grab a cab, $7 each way. Strap yourself in for a treacherous ride on a narrow road across the Dutch side to the French side and Orient Beach to take a walk on the wild side—the naked side.
Turn left and walk the beach to the fence that separates the clothed from the unclothed. To the right, you'll see locals—50+ers with the chutzpah to let it all hang out."
At Maho Beach, bordering the Maho Resort and Royal Islander Club, thrill-seekers are attracted by the incoming jets gliding in just a few yards above your head as they land at the Western end of the runway of Princess Juliana International Airport.
A sign nearby reads, Warning: Low-flying and departing aircraft blast can cause physical injury.
5:30 p.m.:
All aboard. We're headed for St. Kitts and it's time for dinner. Our group dines at 5:45 daily which gives us plenty of time to attend the second show at night in the theater.
9 p.m.:
The Royal Caribbean Production Showtime "Once Upon a Time" has us stumped. It's described as "A Comedy Musical of Classic Fairy Tales." Is it for kids, we wonder? Probably not. We take a chance on what turns out to be the best show in my four years cruising. Modern-day songs like Tom Jones' "Puppet Man," are paired with classic fairy tales like Pinocchio. Can you guess what song they sang to Little Red Riding Hood? Stunning costumes, dancing and singing worthy of Broadway.
Tomorrow:  I'll take the second of two foodie excursions on St. Kitts, the last island on this cruise.