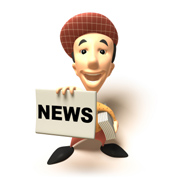 With all the focus on social media, you're probably scampering to create new content for sites like EzineArticles.com, Facebook and Twitter. 
You may be writing articles, creating tips lists, and offering quizzes.
That's great. But don't make the mistake of abandoning online press releases, which is all too easy to do when you're consumed with posting every day to Facebook and Twitter.
Here are eight reasons why you should continue posting them to your website:
Optimized press releases pull in traffic. 
Make sure you use relevant keywords in the headline and throughout the body copy.  But don't stuff the release with keywords, or that will be a red flag to the search engines. Take advantage of StomperNet's excellent seven-day free email course on search engine optimization. Each lesson in "7 Deadly SEO Mistakes" takes just a few minutes to review. 
         
They save time for visitors.
It's a great way to show journalists, bloggers and others what's new and important, without making them spend a lot of time investigating your site.  New product launch?  They'll find it in a press release.  New CEO?  There should be a release at your site that announces that.  Special promotion under way at your company?  Write a release that explains it.  Put a link to all your releases in your online pressroom.
        
You can use them to reach consumers directly–and promote.
Years ago, we had to write printed press releases and cleanse them of anything that sounded like hype or promotion before sending them to journalists.  Gone are the days, thankfully, when we had to genuflect at the altar of traditional media, say a prayer and hope they covered our story.  Online press releases let us reach consumers directly without relying on the media gatekeepers.
         
Video and audio links.
Video and audio links  can lead visitors to content that goes into more depth on a particular topic.  It's a convenient way to get that information in front of visitors instead of making them wade through page after page at your website.
        
They help bloggers.
Online press releases make it easy for bloggers to provide more information for their readers.  All they have to do is link to the release from within their posts.
         
Links to landing pages.
From an online release, you can link to specific landing pages at your website where readers can find more information.  Yes, you can even link to sales pages where you list all the benefits of the product you're selling, and then ask readers to hit the "Buy Now" button.  How cool is that?
    
They keep your site looking fresh and updated.
This is assuming that you post them regularly. It just dawned on me that it's been several months since I've posted a new release, and I've just added that to my "to-do" list for today.  
         
They can help you build your tribe on social networking sites.
From the releases, you can provide links so readers can connect with you at social networking sites. Why not include a link to your Facebook Fan Page, like I have here?
      
Two tips that will help anyone who wants to post online releases:
From the press room at my website, I link to my at ExpertClick.com: The Online Yearbook of Experts.  This subscription service lets me post up to 52 press releases a year with no additional per-release fee.  It also gives me a page in their online database of experts, which journalists search frequently when looking for sources for articles. If you subscribe, tell them I sent you and they'll knock $100 off the subscription.
If you want to learn more about how to write and distribute online press releases, you can opt into the free 12-week tutorial I created on "89 Ways to Write Powerful Press Releases."  More than 6,000 people have taken the course.