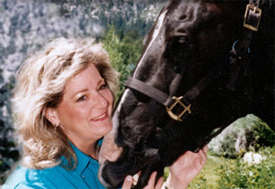 Terri Jay of Washoe Valley, Nev. writes:
"I am a psychic messenger for humans and pets. My main focus right now is to generate private reading clients and also to get the word out about what I do.
"I am able to communicate with people who have Alzheimer's, dementia, autism, or those in a coma. These communication disorders affect millions of people.
"Some people want pet readings. As soon as they start talking about their pet, I can feel the pet through them. Pet communication covers everything, from health to behavior to grieving to performance (especially with horses). My website is at http://www.TerriJay.com
"I have virtually no advertising budget but I do have an agent in L.A. who is pitching a TV show idea. I'd like to find ways to reach out to people and let them know this is possible right away, until I get the TV show going. I'm doing fairly well, have a show at the Pioneer Underground in Downtown Reno on some Saturdays but would really like to become more well known because it would help move the TV show pitching along.
"Can your Hounds help me with ideas?"