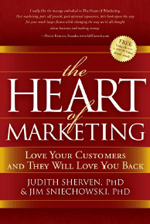 Judith Sherven and Jim Sniechowski of Las Vegas, Nev., write:
"Already best-selling authors of five relationship books, we have turned our attention and expertise to soft-sell marketing. Our new book, The Heart of Marketing: Love Your Customers and They Will Love You Back, Morgan James Publishing, May 2009), already a best-seller at Amazon, promotes selling as spiritual service and marketing from the heart.
"This book is the voice for consciousness and conscience, caring and community in commerce—and has been released at this time when the aftershocks of hard-sell greed are being felt all around the world.
"Please don't bother suggesting 'get on Oprah.'  That is already a definite goal. Please DO suggest the biggest ideas you can think of to get the book standing on long legs so that word of mouth takes over and drives the book onto the New York Times Best Seller list."