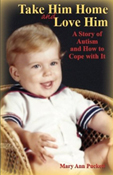 Mary Ann Puckett from Oklahoma City, OK writes:
"I am the author of a self-published book, 'Take Him Home and Love Him/A Story of Autism and How to Cope with It',  which is currently on eBay and Amazon.com. I published the book in 2005 and have received orders from around the world. 
"It is a narrative of my son Stephen's life from birth to age 23.  He is now 28 years old and has made great progress due to therapies and medical intervetions I share in the book.
"Autism is now the Number One childhood disability, and diagnosis of this disorder is increasing rapidly. I am looking for ways to get my information to parents and caregivers.  The book is endorsed by medical doctors, the Department of Human Services and has received 100 percent  positive responses from buyers on eBay. 
"Can your Hounds help me promote my book to parents and caregivers who need it?"